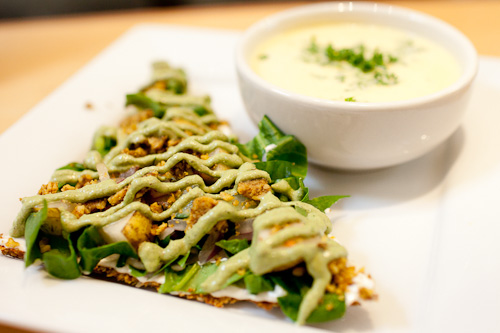 No. 129
<2010-10-14 Thu>
Cafe Bliss is located in Pandora, just west of Government.
Open for breakfast and lunch, Cafe Bliss specialices in salads and soups.
This is vegetarians paradise. Cafe Bliss claims to use local and in-season produce, and to prepare everything organic and raw. Yes, no cooking allowed.
Prices range from 8 to 14 dollars, depending on the salad, or whether you want soup or not.
I am not a "salad" as lunch person, and I was feeling it was unfair to rate this restaurant based on a pizza and a soup, but I didn't feel like having a salad today. I was, however, curious on what a "raw" pizza looked like.
The space is narrow, and long. It has few tables and a long bar, where I sat. It feels inviting, and it is filled with a smell of tea brewing.
To call this dish a pizza is a misnomer. This was more like a huge cracker with a salad on top: spinach, pear, cream, cucumber, onion, nuts, what felt like an avocado-based sauce. The soup is not traditional either. It was a corn "chowder", and the corn was not cooked. The rest of the ingredients read: winter squash and cashew cream. It was very interesting.
I am torn in how to evaluate it. I think in terms of inventiveness and presentation, this place gets top marks. The flavours were there, but they are not the expected ones, because the food has not been cooked at high temperature. You might like them or you might not. My last concern is that, I felt it was expensive for the amount of food that I received, and there are very few options to choose from. If you like salads for lunch, this is definitely a place to come to.
If you are vegetarian, you probably know about Bliss already. If you are not, and you can enjoy a full meal made of vegetables, give it a try.
Verdict: Recommend for vegetarians, or salad "nuts", otherwise your might or might-not.
Paid: $15.68
For more information, including location, please visit: