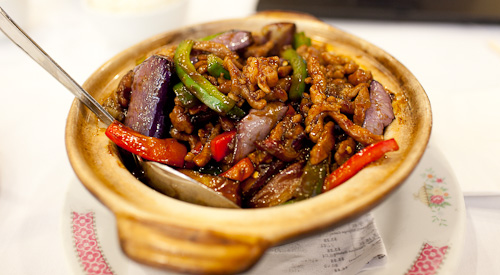 <2010-10-13 Wed>
No. 128
Dynasty is one of the many restaurants in "China Block".
I have been thinking about coming this place for a while. I was very curious about their crab. The entrance says: Live Crab, limit 1.
I like crab and I don't get many opportunities to eat it at lunch time.
As the waiter approached, even before I sat I said: "I want the crab". The waiter looked startled. He asked me if I wanted
, to which I replied I wanted the crab special mentioned in the entrance. Another waiter had to be called, and she looked like she understood. Later came back and said that no crab was available.

No crab. Darn! I feel cheated.

I looked at the menu. It is rich with options, and less formulaic than the Ocean Garden. Had I come with somebody else I'd venture into more expensive dishes that seem made to share, like the steamed salmon. I settle for eggplant and pork belly schezuan style (I have "a thing" about Schezuan style of cooking). I suspect I was given the dinner menu because it only had one "special", and most dishes were above 12 dollars. I am ok with that. I actually prefer good food that value food.

Almost every table has a Chinese person. Its size is in the "medium" range, compared to the other Chinese restaurants in the block. The music--Chinese style--is slightly loud, making it somehow annoying. Even though it only has windows in the front, it feels brighter than Ocean (which is in a corner). Partially it is the white cloths on the tables, which beautifully bright the place, and make the tables more elegant.

As I waited, I observed how the table next ordered. They were given a different menu than me, one with photos. I later discover that they have dimsum at lunch. I suspect that, because they don't the number of clients as Don Mee, people have to order their dim sum from the menu. It also explains why the other tables have dim sum. Ok, my mistake. I jumped the gun by ordering before I got a menu.

The dish arrived. I could hear the signs of approval of the looks of my plate from neighbouring another table. It looked and smelled wonderful. And it tasted wonderful too. The meat was tender and the eggplant was braised to perfection--soft but without falling apart.

When I think about the dish I was served the day before (schezuan prawns on rice, at Ocean Garden) and compare it to this, there is no contest. Dynasty is head and shoulders above Ocean Garden's food. I paid more, but I was left with leftovers for dinner.

How does it compare to the other Chinese restaurants? That is a more difficult question. The food I received was recommendable, and I am already planning my dim-sum lunch visit. And yes, I still want my crab!

The crab-bait-and-switch scam was the only thing that made me cautious of fully recommending it.

Verdict: tasteful food that feels authentic.

For more information, including address, please visit: