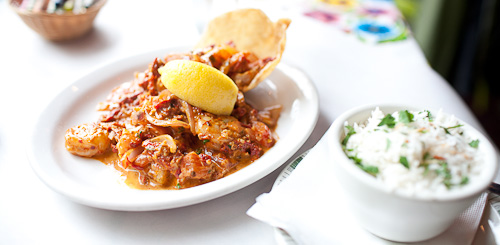 <2010-06-06 Sun> I haven't been there for a long time, but for some
reason the last time was also a rainy day. Sitting by the large
windows, makes these days particularly comfortable. And there are the
crayons. A full basket of them, and an paper that covers the table to
write in. You can let your imagination fly.
I decided to order Chipotle Prawns, to which you have to add the side
dish. After a bit I discovered I was missing bread, so I asked for
some (even if I had to pay for it--which I did) and was asked if I
preferred tortillas, to which I immediately agreed. Hence this was
more like: build-your-own lunch kind of thing.
The dish was good, but had an acetic flavour (I think it was sundried
tomatoes marinated in vinegar, but I might be wrong), and the basmati
rice was slightly overcooked (but very edible). Certainly one lunch
that I'd be happy to make at home, but not one that woes me. The
tortillas were nicely grilled (but too many, 4 huge tortillas!). I
enjoyed my lunch.
The main downside is that the cumulative cost of all the "extras"
amounted to the largest bill I have paid so far, and puts in the
territory of the expensive restaurants. This actually shows how good
deals some restaurants are: for 17 dollars I get a great lunch at some
of the top restaurants of the city (where these extras are included,
bread and side dish).
But to be fair, the tortillas were not really needed, in such case the
bill would have been only 15.65, still in the same price category.
Given that the food was not perfect, its makes the restaurant too
expensive for what it offers. On the other hand, the food is good
enough that I don't mind visiting, if I have to.
Update: It finally settled in. Restaurants are roughly divided into two
categories based upon if they charge a different price at lunch or
not. Santiago's is one of those that charges the same price
nonetheless. Hence, for a lunch destination feels pricey, but for a
dinner destination is a good deal. On the other hand, it is also
explains why they serve soo much food at these places. From now on I'll
classify them based on that.
Verdict: Expensive. _Only_ if you are in the area (and subject to more research of
such area), or if you want a very late lunch.
Update (July 20, 2010): In my opinion
Aura
is a significantly better destination.
Price: 18.74 + tip (15.65 without the extra tortillas). Full day pricing.
For more information, including address, visit: