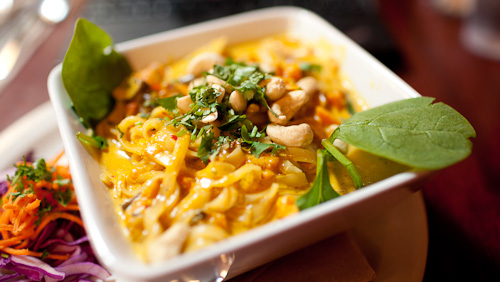 <2010-09-13 Mon>
No. 104
Mo:Lé is a favourite. I have eaten here a couple of times, but have not been wowed by it the way its placement in reviews would imply.
Their menu feels brunch-like, and perhaps one of the reasons it is so popular during the weekends, when you usually have to wait to get a table (Habit benefits with the overflow, for sure). As I write this I checked their website, and indeed, they open from 8 AM to 4 PM. Hence their menu.
I am not keen on eggs during lunch, and decided to order the curry.
As I wait for my food, I have to say that I like the restaurant. It has certain charm that is hard to describe.
My curry arrived in a very hot plate (extra points in my book) and had a wonderful and rich smell. It was a pasta on top of a bed of spinach, with yams cashews and onions. All the flavour were there.
My only complaint is that it felt soggy. I wonder if this dish would taste better on rice.
The service deserves two comments: please do not "dear" me, and please, please, do not ask me if I want change, ever.
Overall, a good visit. I'll consider it specially for a breakfast.
Paid 13.50 + tip
For more information, including address, please visit: