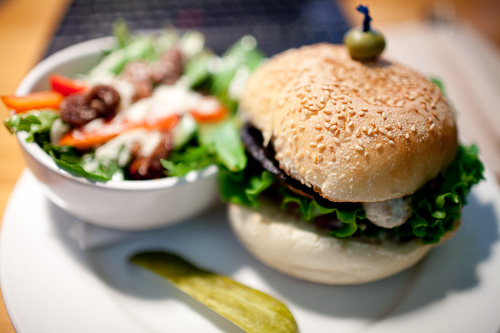 <2010-09-20 Mon>
No. 110
Soo many people talk so highly of the Pink that I am surprised I haven't been here before.
As it opens on Monday, it already gets brownie points. It was early and i was one of the first persons to be there. It is an elegant and pleasant place, although a bit dark towards the back. The carnations light the tables.
Frequently is the nice touches that make the difference. As I sat a glass and a bottle of water were placed on my table. I appreciate that.
As its name implies, burgers are their speciality. And they have lots of options, for any palate.
I have been eating too much meat lately, thus I ordered the portabello burger.
It was a delicious burger and salad. There was certain nuttiness in the burger, and bun was delicious, the portabello nicely grilled. A tasty salad was adorned by roasted pecans. I wanted more.
The only blemish: please, don't ask me if I want change.
Verdict: The Pink is a great find. I am definitely a convert. Recommended.
Paid: 12.32 + tip.
For more information, including address, please visit: