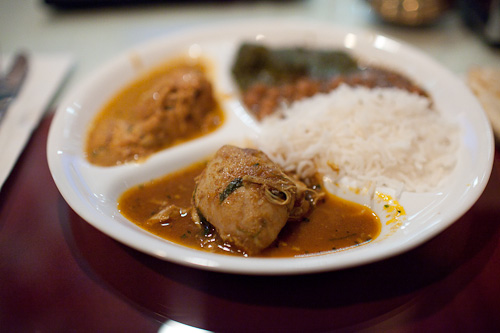 <2010-09-09 Thu>
No. 99
JR's India Curry House is a small, windowless restaurant tucked in the back of a building. It recently changed hands, and it makes all the difference.
I visited JR's few weeks ago on a Saturday. Their menu at lunch time was their dinner menu, and it felt expensive. The food, though, was excellent. I was told that they now offered a buffet during the weekdays.
I thought about it and decided to review the buffet. As I have written in the past, I am not a fan of buffets, but felt that their food was good enough to deserve it a try.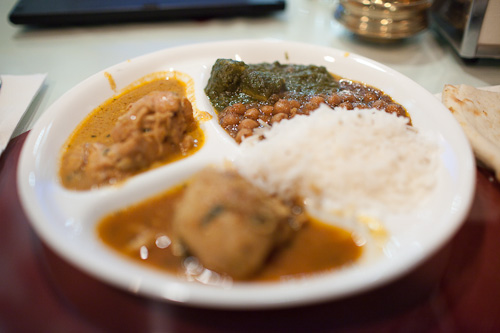 As it is becoming common, I arrived after 1:00 PM. The options were not very numerous, but were clearly divided on those that were vegetarian and those with meat.
The salad and deserts areas were almost empty.
Overall, I was satisfied with the food. Unfortunately, the food left a heavy feeling for the rest of the day (combination of the amount I ate, and the oil in the food and its spiciness).
On the other hand, when I visited on a Saturday, I was very satisfied with my food. I ordered one of the combination plates. While the lunch was expensive, the food was good, the flavours subtle and very enjoyable.
Verdict: If you like buffets, then give it a try, the food is good, and worth the money.
Paid: 13.44 + tip
For more information, including location, please visit: