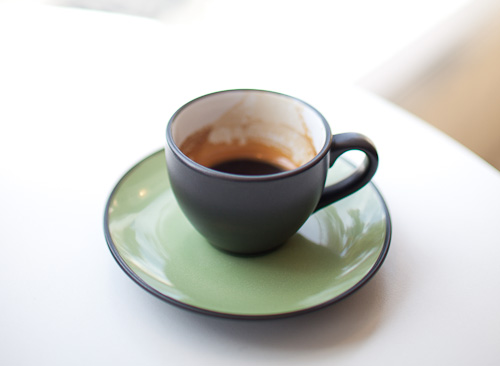 (Coffee Review)
<2010-09-04 Sat>
No. 97
Between its sibling at the London Drugs plaza on Yates, they share the baristas and other staff. That day Anthony was behind the espresso machine. He is, in my opinion, one of the best baristas in town. He explained me that he spends some days in one and some in the other. I mentioned to him that the
quality of the coffee was not the same without him
. The coffee he prepared for me was excellent.
This Dolce Vita is huge compared to the other one. I like it, although some of the tables are not very comfortable. Even though it has good coffee, it is rarely more than 1/2 full (at least at the times I go). This surprises me and I wonder why. I suspect the reason is that it is located in the wrong side of the street. Perhaps this area is starting to suffer "coffee" saturation (Mirage and Starbucks are just meters away, and there are 4 more coffee places just one block and a half away).
I frequently stop by, get a coffee, and sit by the window, looking at the hectic pace of this part of town.
Verdict: Good coffee and a pleasant environment. I am a regular.
For more information, including address, visit: