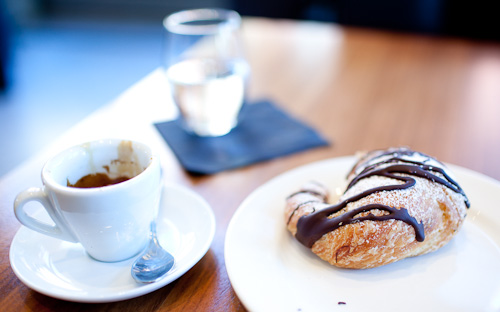 Coffee
<2010-09-09 Thu>
No. 103
Coffee Review
I still have memories of this not-so-memorable corner before the hotel was refurbished. The new hotel Rialto is a beautiful restoration of an old landmark of the city.
Breve sits exactly in its corner. Why it is so empty beats me. This is one of the most beautiful and classy coffee destinations in town. They serve Discovery Coffee and Bubby Roses pastries.
I was tempted by the chocolate croissant, and order one to accompany my espresso. I was pleasantly surprised when a complementary glass of soda water rounded my order. I enjoyed everything.
The place is bright and comfortable. It is small, but in two times I have been here, there are not that many others (after 2:00 in both cases).
The only downside is that it closes at 4 PM.
Verdict: I have placed Breve as one of my favourite coffee shops in town.
For more information, including address, please visit: