<2010-09-08 Wed>
No. 101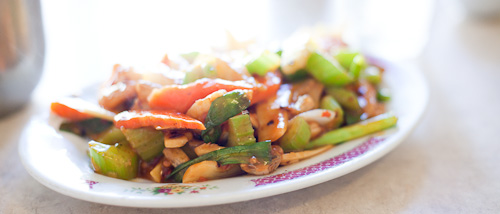 Located in Caledonia, this restaurant is outside the areas I am usually at, and hence, I haven't visited in perhaps 5-6 years. A visit to a service shop in the area brought me here.
The restaurant is small (might sit 20-30 people). Many of the dinners were referring to the staff by name, which shows that they is certain level of loyalty of the customers to this restaurant. This is not surprising. By being outside of the tourist core, Szechuan's core business are regulars.
The menu is large. As I have written before, I avoid ordering the specials, and go for things that sound interesting (in their translated name). I ordered Schezuan shrimp and rice.
The food was tasty, but lack the extra "hump" of good Chinese food. I would not mind eating hear again, but I would not go out of my way to come to this restaurant.
This area is relatively devoured of restaurants, and as such, Schezuan is a solid option.
The portion was large and I left 1/2 for my doggy bag (which became dinner).
Verdict: Not a bad option if you are in the area.
Paid: 15.04 + tax (but had 1/2 for leftovers)
For more information, including address, visit: