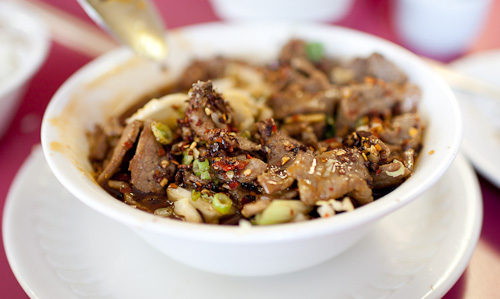 I love this
restaurant
. It is my favourite Chinese restaurant.
This time I came with no Chinese translator. I tried to order the fish I had the last time by showing photos of it (the waitress was the woman who owns it, her husband runs the kitchen), but got beef instead. I didn't mind it.
The food was as delicious as the last time, but it was less spicy (which I recommend, Szechuan food can be very spicy). At the end of our meal I had a chance to talk to the owner. I expressed to her how much I appreciated her food, and we chat about the different offerings she has. She mentioned that a lot of her customers are not used to the spiciness of their food, but she is trying to introduce them to the flavours slowly. I, for one, want to continue to explore their food.
After two visits, I can say with confidence that Honk Kong West is my favourite Chinese restaurant in town.
Verdict: Recommended, but watch for the spiciness