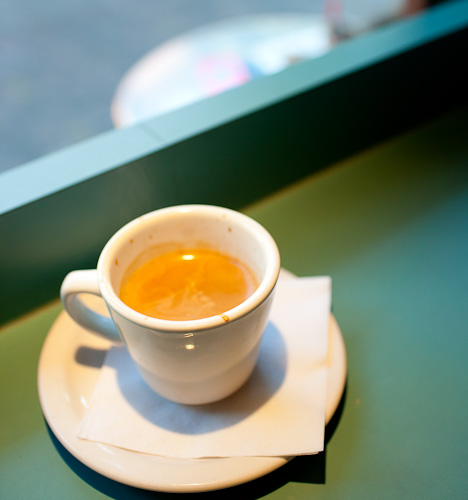 <2010-09-14 Tue>
(Coffee Review)
No. 106
Do you know where the Rising Star Deli is? I bet most people don't. There is a painted star on top of the entrance, and tables in the outside, but I could not see anywhere the name of the restaurant. It feels as if it wants to hide from unsuspecting customers.
I was surprised to see how large the place is inside. It is a funky place, with good music. The walls are covered with interesting art that is worth glancing at. Of course it can't compare with Legacy Gallery, but that is not the purpose. The art in the walls here is more of the type you would see hanging from the walls of the artsy folk in this side of the world. Many of the artifacts are worth a look. Except for one person, it was empty (and one more sitting outside).
The coffee is not bad. Their espresso feels similar to what I get at Starbucks.
The place was calm, and it was enjoyable to sit by the window.
To go to the washroom you have to pass the kitchen. And it is a huge kitchen. I suspect they do catering for other businesses, and that business is bigger than the coffee shop/deli. The kitchen was very busy.
Rising Star is in a tough area. It is just meters away from Wild and Legacy, and in the middle of a zone that has more than 7 coffee places within a 3 blocks radius. For a coffee I'd prefer
Legacy
or
Breve
.
Verdict: the coffee is average, but the place is pleasant.
Paid: 2.40
For more information, including address, visit: