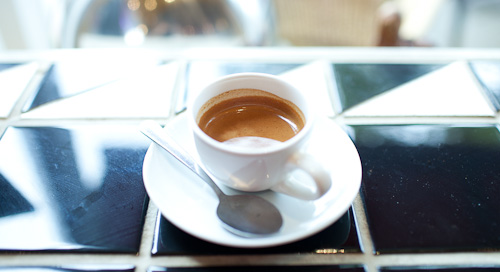 <2010-09-18 Sat>
No. 109
Coffee Review
Mirage is one of those coffee shops that keeps opening branches. Its original one is located in Blanchard, between View and Fort.
One of their main claims to fame is that they roast their own coffee (you can buy it at their coffee shops). I like their espresso. It is good coffee.
This location, however, is a bit odd. It sits around 12 people, plus 6-8 outside. In a busy day, it is hard to find a place to sit.
I do like its window bench, even though is few inches too high and somehow uncomfortable to type on a laptop. It is a good place to observe the passing tourists.
It has strong competition:
The Soda Shoppe
, and 2 blocks south
Artigiano
(the best in the area), or
Macchiato
, my preferred destination in the area.
Verdict: Good coffee, and a nice, but small, place for people watching.
Update, Nov 24, 2010. I got today a delicious espresso.
For more information, please visit: