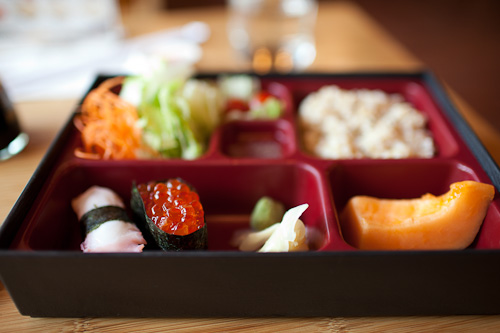 <2010-09-09 Thu>
No. 102
I have tried to come to this restaurant for a while, but either they were closed for lunch, or closed on Mondays.
The adverts they run in the Victoria News remind me of this restaurant. I guess they work.
I was sit by the window, a beautiful location next to the bright large window. I can't forget the great Herald Street Cafe, which I still miss. Its original floor space has been divided in two, and this restaurant sits on the left side (the bar side of the old Cafe).
My waiter brought me a menu. The outside boasted $1 ebi nigiri (one of my least favourite types of nigiri), the waiter explained that the nigiri special was complemented with a bento box special.
Here I pause to emphasize a point: voice-only specials are a no-no in my book. I want to read, at my own pace, what a special is, and avoid misunderstandings.
The menu was odd: too many small items (hence the "tapa" in the name of the restaurant).
I decided to order the bento special: brown rice with ikura and tako.
My bento came with another one of those no-nos in my book: the dressing of the salad was in the center compartment of the bento.
I objected to both the sushi chef and the waiter, asking how I was supposed to pour the dressing on my salad. The answer, they explained me, is to dip the vegetable into the dressing as if it was a sauce. I don't buy it. I asked for a spoon instead.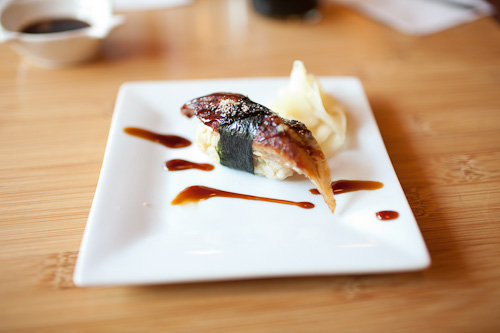 The rice and the ikura were very enjoyable, but the tako was a notch below. The salad was mostly iceberg, with two (very tasty) small tomatoes.
The bento is not very filling and needed more food. The salmon season had just ended with a record run of salmon sockeye and thought it would be a good option. It did not disappoint. Neither the unagi nigiri I also ordered. In fact, the unagi was beatifuly presented.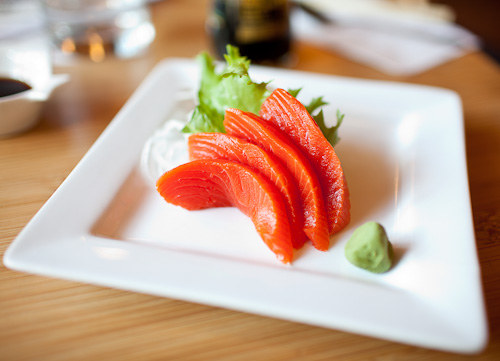 Putting into context, Geishas has hard competition. It sits one block from the China Block, and it is around the corner from
Shizen
. I don't think one is significantly better than the other, but Shizen has a more varied menu, hence I'll go there instead of Geisha.
Verdict: a contrived menu with decent options but nothing that wows. Small portions means you have to order several ones.
Paid: 14.85 + tip
For more information, including location, visit: