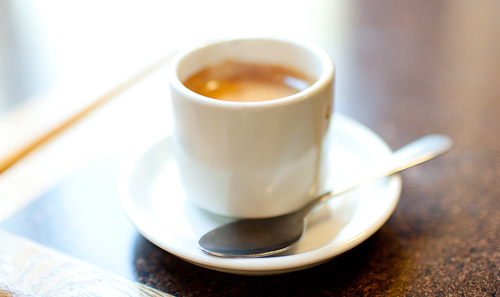 (Coffee Review)
<2010-09-02 Thu>
No. 96
In the middle of tourist strip (Government St), Old Time Deli is a coffee shop and deli with Internet workstations in the back. The artwork on the walls brings me back memories of a defunct favourite---the Herald Street Cafe---where they use to hang. I wonder what the relationship is.
The place is large, but lacks "soul". It feels cold, uninviting, in a way that is hard to explain. That they play the radio on loudspeakers does not help. On the other hand, their tables are very comfortable. I sat by the window, and enjoyed watching the tourists.
They are a deli with lots of pastries, but, as I usual, I only ordered a espresso.
Surprisingly, the coffee was good. Significantly better than Starbucks, and similar to Murchie's, but I still prefer Macchiato, around the corner.
Verdict: Good coffee
For more information, including address, visit: