No. 59
Guest photos by JD.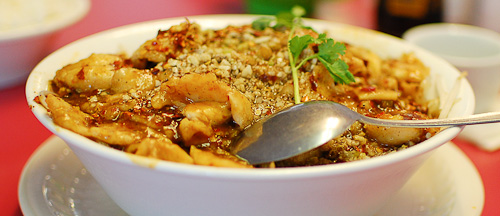 <2010-07-22 Thu>Authentic Schezuan food that feels like touching a 9-volt battery terminals with the tongue.
A friend, whose food taste I trust, recommended me Honk Kong West as authentic Schezuan food, and added: you need to go with a person that speaks Chinese. Apparently it changed ownership not long ago.
Today it is less a secret that many Chinese restaurants have two menus: the English and the Chinese one, that are totally different. Frequently restaurants think that non-Chinese will not like the authentic fare. In Richmond I have been "invited" by the waiter to change my order because I might not like it.
I enlisted my Chinese interpreter, HZ, by bribing him to a free lunch.
We arrived early, and were greeted by a family of Chinese immigrants who run the restaurant: they look like the grandparents and teenage grandson. They appear to be the front and back operation of the restaurant.As soon as we stepped into the restaurant, they talked to HZ in Chinese, and during our entire meal we exchanged very few words in English with them.
We sat and HZ was given a menu. In China, it is common that one person orders for the entire table. The plates are to be shared. HZ explained to me that this is an important responsibility that cannot be taken lightly: the choices should match between each other; and one must order meat and vegetables to have a full meal. The menu had more than 30 options, all written in Chinese. It reminded me of my days in Japan where food lottery was a common method of ordering until I got slightly familiar with the Kanji.
"Order as if you were at home, we will eat everything", I stated. JD nodded in approval. HZ enquired about our willingness to eat frog, to which both gave a thumbs up. We ordered three dishes: Poach Fish with hot chilli - 水煮鱼 (pronounced as Shui Chu Yu), spicy bullfrog - 香辣牛蛙 (pronounced as Shiang La Niu Wa) and dry-fried french beans with minced pork and preserved vegetables - 干煸四季豆 (pronounced as Gan Bian Si Ji Dou), plus some rice.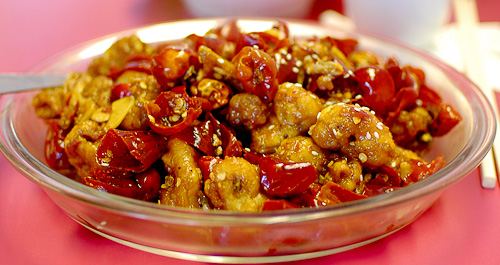 The first to arrive was the fish. We could immediately see it was going to be spicy: it was loaded with garlic and chillies. We promptly filled our plates and were surprised by that sudden rush that accompanies authentic Szechuan food. It is a sudden tingling of your tongue, like if it is getting numb (and one of the strong memories I have about eating in China). I have always being curious about what creates it, my gut feeling was that it was star anise (another typical spice of Szechuan food) and checked the wikipedia. I was wrong: the tingling is produced by the Sichuan Pepper and cites Harold McGee book "On Food and Cooking", a book that any kitchen nerd (like me) who likes food (like me) or likes to cook food (like me) should have in his bookshelf. Harold explains:
"The [..] Sichuan pepper [..] offers a strange and interesting version of pungency." and continues "[The pungency compounds in the Sichuan pepper] produce a strange, tingling, buzzing numbing sensation that is something like the effect of carbonated drinks or a mild electrical current (touching the terminals of a nine-volt battery [who hasn't done that!])." [They] appear to act on several different kinds of nerve endings at once, induce sensitivity to touch and cold in nerves that are ordinarily nonsensitive, and so perhaps causes a kind of general neurological confusion".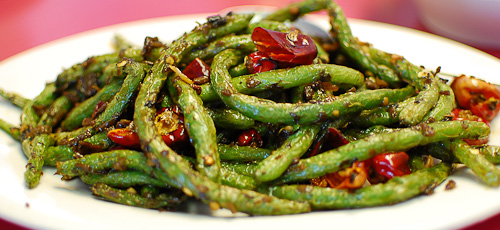 How true the description is, and how amazingly refreshing it feels.
You have to be warned: Szechuan food is not for everybody. It is loaded with chillies, so after your tongue feels numb and opens, the rush of the chillies kicks in. Amazing food. The fish, I believe it was basa, worked well with the dish and was well cooked. Overall a dish that will make me come back on its own.
The frog was ok. Interesting, but not memorable. The beans, on the other hand, were another delicious addition to an already rich meal.
It was spicy, we had to ask for extra napkins (to clean our dripping nostrils), and tea, and we ate and ate and ate, and could not finish the food. HZ gave the best compliment: "This is food as if I was in Shanghai--except for the frog".
As we devoured our meal we noticed the daily specials: the food that you would expect in any Chinese restaurant: the combos, with the rice, roll and some stir fried food. We could see the woman in the table next to ours ordering from that menu..
Like Antony Bourdain explains in one of the episodes of his tv show "No Reservations": in these Chinese restaurants there are two different worlds, few meters away from each other, one often unaware of the food the other is eating.
Get your translator and try it. Just bear in mind: Szechuan food is not for the weak of tongue, mouth or stomach.
This place is worth exploring. I have not been excited about a local menu for a long time.
One warning: some of these dishes take time to cook. We were the first to arrive and received our first plate around 15-20 minutes after we ordered.
Verdict: Authentic Szechuan food that feels home made. Another of Victoria's secrets. Recommended if you can handle it.
--dmg
Paid: 15/person + tip
For more information, including address, visit: