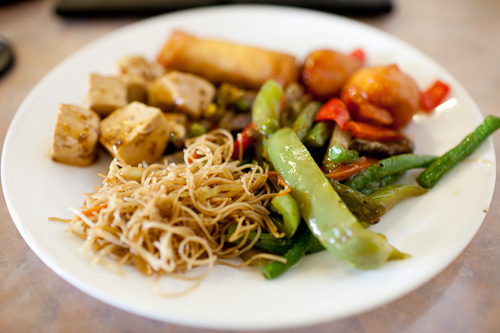 <2010-09-14 Tue>
No. 105
Some restaurants have protocols that surprise me, but nothing like Lotus Pond. As I entered, I saw the buffet bar. I got a table, headed for the buffet, and went back to my table. Just to be stop on my tracks: I was supposed to weigh my plate!
Yes, this is a restaurant by weight, and I don't like it. It charges 16.50 per kilogram.
I arrived around 1:45, and the food felt cold and old. But the flavours were there. There were hints of good cooking. I haven't crammed my first plate with food, but didn't feel interested in getting another one.
Apparently there is the option of ordering from a menu. I might try it one day.
Lotus pond is a vegan restaurant, one of the few (only?) in town.
Verdict: I will avoid any by-the-weight restaurant.
Paid: 7.31