For an second visit to
this location
.
<2010-08-21 Sat>
No. 83
Coffee Review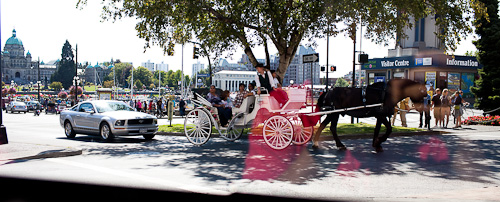 On the East side of Government, right across the street of the Empress, The Soda Shoppe is in one of the best locations in downtown. I was surprised to learn--thanks to Your Restaurant Sucks, that they are
no longer are a Rogers
outlet.
The store is divided into two sections: the ice-cream parlour, and the rest. It is a large place, with large windows offering a beautiful view of the area in front of the Empress. It was a very hot day, but I needed a coffee. In retrospective, it was the worst day of the year to come here. The Sun was blazing and I sat, you guess it, by the windows, under the Sun.
I love that view. It is soothing. I makes me feel like a tourist, and enjoy the fact that people pay to come here to have a similar experience. Unfortunately the person who designed those sits never sat in them. They are the most uncomfortable in the world. Perhaps it is by design: they want tourist to keep moving. Thus a high turn-over and lots of business, who will never come back--at least not for months. The locals, the regular, can come, but the sits seem to scream "please don't stay for long". It is a shame, because I'd be willing to come for that view on a regular basis, and pay top-money for it.
Service is slow. And it is annoying to have to wait by the counter for my coffee for what feels like an eternity. They need a way to streamline that. Shoppe, if you are listening, hire a busboy, and people will love the extra pampering (I would).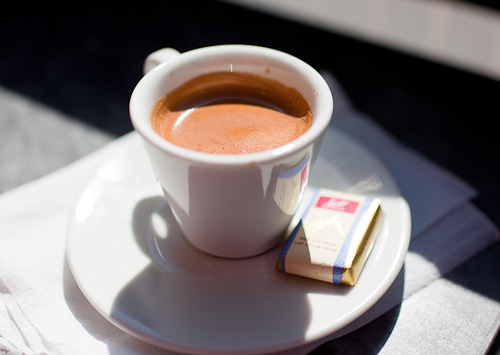 The coffee was ok but a bit bitter for my taste, but it had good thickness. The small Lindt chocolate that came with it was melting by the time I ate it, but I enjoyed it. I like the treat of a small chocolates with my coffee.
Verdict: Nice location, awful sitting, recommended with reservations.
--dmg
Update: Nov 10, 2010. I received one of the worst coffees in a while. The problem with the baristas here is that they are young people with no skill. Order something other than coffee.
For more information, including address, please visit: