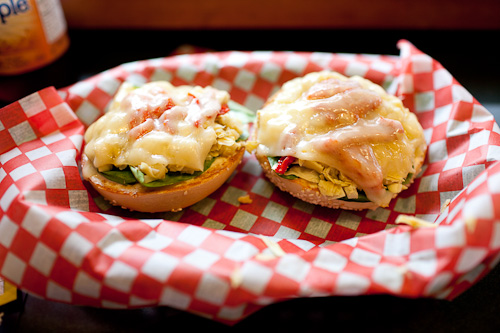 No. 126
<2010-10-09 Sat>
When I am downtown and want a quick sandwich, I turn to Bagels on Broad. Ok, it is not a sandwich, it is a bagel, but the objective is the same: a quick bite.
I like their California Bagel, which is essentially a vegetarian one. The bagels are good (I think they come from Mount Royal). It is not a "gourmet" dish, but very satisfying nonetheless. It is comprised primarily of artichokes, spinach and cheese.
You have to wait few minutes for the oven to do its magic, time you can invest sitting by the window looking at the people passing by.
There are one fast food alternative close by: the taco truck of Puerto Vallarta Amigos. They are very different products and types of locations, and my choice will depend on my mood.
Verdict: simple, cheap, but good fast food.
Paid: It was around 6.50, but was treated, so I didn't keep track.
For more information, including address, please visit: