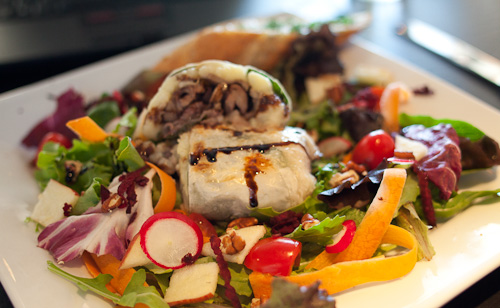 No. 116
<2010-09-28 Tue>
Blighty's Bistro is located on Oak Bay Avenue, just East of Fort. It is in an occluded place, even as I was walking towards it, it wasn't sure It was there. Long time ago it used to open for lunch, and just recently they decided to restart the lunch service again.
It was originally on Friday when I tried to visit. But I arrive 5 minutes before 2 and Rachelle, the owner apologized that the kitchen had already closed. I was sadden: I mentioned to hear that I had just read on the website that their service ended at 2:00. She replied that she felt guilty and she would get me some food. I said I was ok. She offered me a free lunch the next time. Deal.
I came back the following Tuesday.
This is a relatively small, place. Elegant, is how I can describe it as I walked through the door. Nice, leather chairs, but the leather cover on the tables seems a little too much. The art on the wall works great with the rest of the decor.
Rachelle recognized me. I told her that I was going to pay nonetheless. She stood her ground and said that, if I really wanted to pay it would go to charity. I thought it was a great compromise.
At first, I was annoyed by the insects flying inside the restaurant. But without saying anything, Rachelle apologized explaining that it is the location and the time of the year.
Rachelle works the floor at lunch time. And this is very important: she knows what is going on, and she wants the place to succeed. Hence, she takes good care of you.
The lunch menu is focused on light food: salads, sandwiches, soups (they had 2 specials of the day). I like duck (when properly cooked) and jumped at the opportunity of having a duck salad.
While I waited, I enjoyed the great smell coming from the kitchen. My salad and the duck were delicious. The duck rolls were not made with the best part of the duck, but that was expected (lunch time for this type of restaurants is an opportunity to take advantage of the ingredients they don't use during their dinner service).
The service was magnificent. This is a excellent alternative in an area that does not have many.
As I was finishing my lunch I mentioned to her that I was surprised to know that the restaurant had reopened for lunch service. We discussed the difficulties of bringing new customers through the door, and that worth of mouth is one of the most important methods.
I would suggest using a sign on the street (although, I would not be surprised that the rabid by-law police of Oak Bay might have some regulations against it).
In my opinion, I would like to see Blighty's succeed.
Verdict: Very good food. I need to visit it again to fully recommend it.
For more information, including address, please visit: