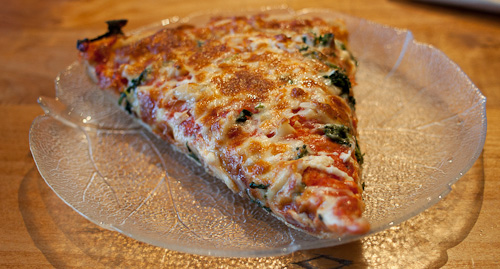 No. 117
<2010-09-28 Tue>
There are many, many Pizzerias in town, but somehow, I never think of pizza as a meal, or even a snack. I rarely eat pizza out, so take my comments with a grain of salt.
Located next to the Odeon, Brickyard pizza is a pizzeria and a bar. I think its strength is to offer inexpensive food in the evenings (particularly after a night at the movies, or out drinking).
I ordered a slice of spinach pizza. It was decent for the price, but I would not go out of my way to have this for lunch.
As a location, I like it. It has a good vibe. This might come from the fact that it feels like a bar when people come to mingle with each other.
Verdict: a decent place for a late-night snack, but not a lunch destination.
For more information, including location: