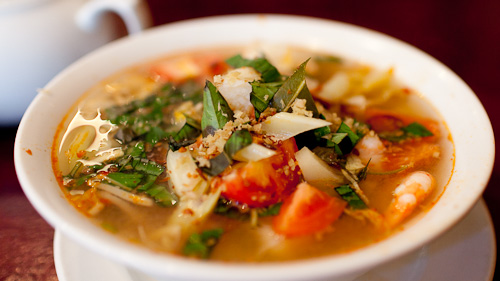 <2010-10-06 Wed>
No. 124
There is something about soups and stews that makes us feel comforted. It might have to do with the belief that, when we are sick, a soup will cure us.
Seafood soups are some of my favourites, in part because they bring me back memories of my childhood. This, in my opinion, is the power of food: to take us back to places and times long gone. Our palate send a signal to our brain that reacts in an amazing way. Think about it. There have to be dishes that do that for you.
At Kim's I tend to order their "Seafood bouillabaisse" (a loose translation of a seafood soup). It is an amazing dish, full of flavours. This is a list (which is surely partial) of what I could recognize: lemongrass, pineapple, tomatoes, celery, sprouts, basil, scallops, squid, shrimp, fish, mussels, ginger, some type of chili pepper, and I think thai basil. It is very tasty, and has to be one of my favourite "soups" at lunch time. The small version is large enough for me. It comes with noodles that you poor in.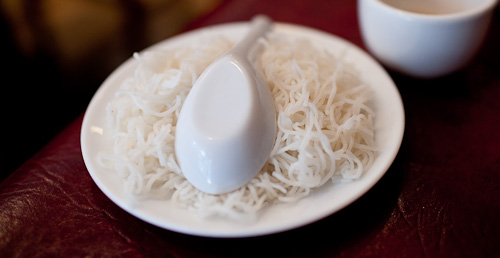 Kim is a small-to-medium restaurant, that sits around 30-40 people, located in Johnson, between Blanshard and Pandora. Some dishes are better than others. I have been disappointed in the past.
Verdict: I'll keep coming back for their seafood bouillabaisse.
Paid: 12.95 + tip
For more information, including address, please visit: