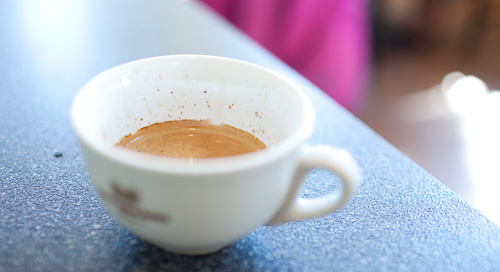 <2010-09-22 Wed>
No. 113
This is a simple and small coffee shop at the corner of Fort and Quadra. I had passed many times without being interesting in going in.
Two women who looked like Japanese in origin were serving behind the counter. They were very friendly. It is not in one occasion that my decision to go into a restaurant has been swayed by their friendly staff. Coffee, in particular, is as much about ambiance as it is about coffee.
The tables are comfortable. It was also interesting to overhear the conversation in the next table. Middle age women were discussing the difficulties of finding good men. They didn't mind the others hearing. When three men sat in the table next they invited them to contribute to the discussion. It was, as it should be, the true spirit of the old coffee shops: where ideas were discussed.
One day I'll write a book of these coffee shop stories.
The coffee? Decent. Similar to what I'd get from Starbucks.
There are two Travelling Beans in town. The other is located in James Bay.
Verdict: Decent coffee, in a small location, with friendly staff.