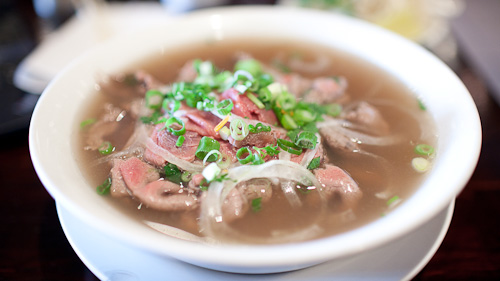 <2010-09-22 Wed>
No. 112
Update. In an early version of this posting I made a mistake. I confused Saigon Night with Saigon Harbour. What follows is the correct review.
Saigon Night is located in Fort St just east of Quadra. It is a medium place with a dark decor. The restaurant was relatively empty, considering the size. Some customers were clearly regulars.
Saigon Night has the typical fare: rice and noodles dishes and pho. Unlike Pho Vy, they have few pho specials. I ordered the one with meat.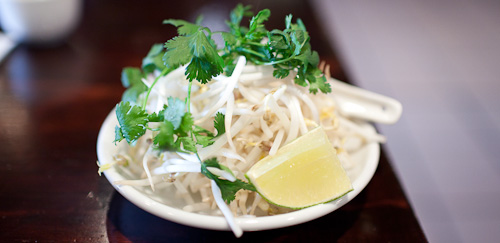 It was very good in all aspects: the meat was tender, the broth flavourful, the sides were fresh, and the plate was huge.
I certainly enjoyed it.
Many would ask: how does it compare to Pho Vy. There are not many pho options at this restaurant, but what I received is comparable to Pho Vy. One of my complaints about Pho Vy is that it is sometimes inconsistent. Is Saigon Night inconsistent? I don't know. I would have to visit again. On the other hand, its was more expensive.
Paid: 13.44 + tip
For more information, including address, please visit: