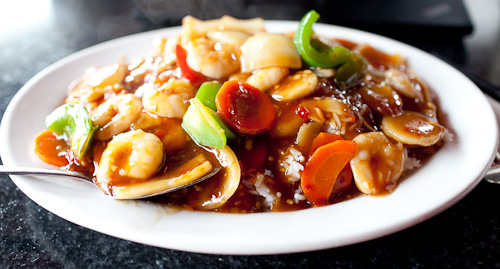 No. 127
Located at the corner of Government and Fisgard, I consider it the most "tourist" oriented of the restaurants in China Block.
If you ever walked by it, you will see that this place is usually full of non-Chinese. Yet, the signs are written in Chinese and English.
I wasn't sure what to expect. The place is large, clean but feels run down. Its best times are long past.
The lunch menu is massive. Items range from 7 dollars to 10. As I have learned, at Chinese restaurants I avoid the preset lunches; instead I try to find interesting dishes in the menu. Its menu, like it is frequent in Chinese restaurants, is really a bunch of "combinations": do you want rice or noodles? soft noodles or crispy noodles? do you want pork, beef, shrimp, seafood, chicken? do you want sauce X, Y or Z? It would be significantly easier to decide if the provide a "choose one of each" type of menu, rather than listing every possible combination.
I settled for "Schezuan prawns on rice".
The dish is huge, full of vegetables, but too much sauce on it. It disappoints. It is messy and lacks good flavours. There is nothing special about this dish. My suggestion? there are better restaurants in the block, hence avoid, unless you are looking for a lot of cheap food.
Surprisingly, the restaurant always looks busy from the outside. Go figure.
Verdict: Avoid
Paid: 10 + tip
For more information, including address, please visit: