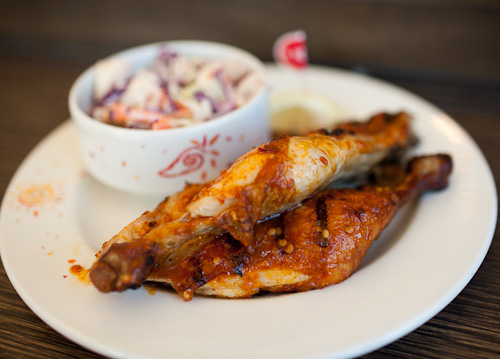 No. 119
<2010-09-30 Thu>
Once I went in, but left without ordering. Nando's felt too much like a chain restaurant, and I felt the prices were expensive compared to restaurants in the area.
Since starting my quest, I had been in front several times, always wondering if it should be the day to review it. Every time I headed somewhere else.
A friend gave me a coupon that had one week left before its expiration date. She likes Nando's and urged me to try it.
Nando's is a fast-food type of restaurant that serves relatively slow food. Contradiction? Yes. They make the chicken to order.
Nando's is a South African chain. It is easy to guess its origin: the walls are covered with African artefacts. The location is beautiful. The restaurant occupies the corner, with plenty of Sun light, and sitting space.
You order from the wall. The options are straightforward: choose the type of chicken part you like, the amount, and add sides (and there are not that many of them). They will bring the food to your table.
The prices vary from 9.49 to 13.69 plus tax.
They offer it in 4 levels of spiciness. I asked for a double leg, hot (the hottest, next time I'll ask for medium).
I really wanted mash with my chicken, and the option of a potato sounded too dry for me. This is my main complain about Nando's: the sides do not seem to go very well with the chicken. I asked for the coleslaw.
The chicken had a very rich lime, and hot pepper flavour. It was so juicy that I had to check the bone: yes, it was cooked, and it was perfectly cooked. It was delicious.
With regard to prices. Nando's is one of the restaurants that has a single menu for the entire day. At dinner time, its prices are cheap, at lunch time, they are average, towards expensive. You can eat in China Block for a lot less.
With regard to competition: Nando's is in a difficult location, again, just a block from China Block. But if you are looking for chicken, this is a very good destination. Just don't bring a vegetarian along: he/she will be utterly disappointed.
Me? If they add mashed potatoes to the menu, I would become a regular. As it stands, the lack of good side dishes makes the meal boring.
I received very good service too. This is particularly remarkable because it is a fast-food style restaurant.
Verdict: Unexpectedly, I liked it.
Paid: 10.63 (minus coupon).
For more information, including its address, visit: