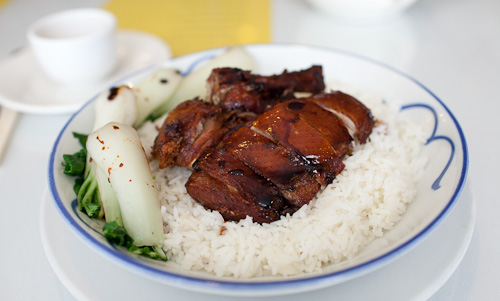 No. 118
<2010-09-29 Wed>
It had been at Mee Wah two or three times for lunch before, and I had been very disappointed: the emphasis had been on volume rather than quality. One of my Chinese friends likes the restaurant, but I think he is heavily influenced by the price he pays.
As my plan is to visit every restaurant in Victoria again, I had to eat there. This time, I spent more time perusing the specials: 16 lunch specials at a hard to beat price: $6.50. Yes, 16.
I think at Mee Wah it is a matter of ordering correctly. The meals I had in the past have been huge, but they haven't been very good.
At lunch time the customers are not Chinese, and that probably biases the menu heavily. At lunch time, every time I have been here, I see a lot of old people, and I wonder if many of them are in a day trip from one of the many retirement homes in the area. Certainly the table next to me was such a case.
I decided to go for duck on rice. The meal was simple, yet good. For the price, I felt I got an excellent lunch. And this is the key to a meal: the ratio cost/benefit.
You can't expect a restaurant that serves food for $6.50 to match the one that is served by a restaurant that charges 13 dollars a dish. In fact, this was the case, when yesterday I ordered duck at Blighty's for $13 and today duck again for $6.50. If I didn't have to pay, hands down the Blighty's is a better choice. But once I pay, I would say this is a tie: Blighty's serves duck in a sophisticated dish at a good price, Mee Wah serves duck in a very simple way at a excellent price. My choice? I would eat either one of them, depending on how the days goes.
Verdict: ample amount of food, and rock bottom prices. Quality varies across dishes.
Paid: 7.30 + tip
For more information, including location, please visit: