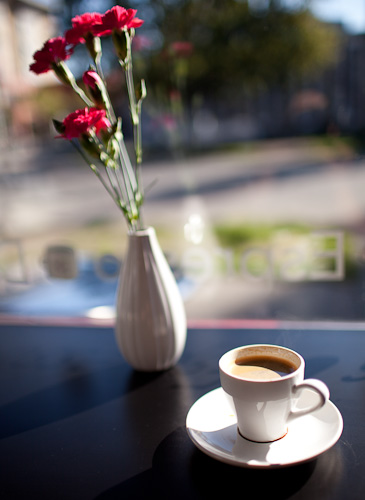 No. 121
<2010-10-01 Fri>
Coffee Review
Located in Pandora, almost at Quadra, this is a beautiful small cafe. Recently opened, there are few locations in Victoria that exude love like Cranberry Coffee Cup.
I had passed by the place around one week ago, and liked it, and made a mental note to come to visit. I arrived at 3:30; they were getting ready to close the till, but were happy to accommodate me.
Cranberry lives up to its name: its decor is bright red while and black, lovely little tables with matching table cloths. It is definitely beautiful.
As I walked in, there was certainly cheerfulness in the air. It felt like a family gathering, the ones that talk highly of good vibe between the staff.
I got my coffee (a good cup of espresso) and chat with them. I learnt that this is a family run and operated business. "Mom" runs it, as one of them explained it, "and the family helps".
The offer light lunch at very good prices. The place is small and cozy, and I love their bench by the window where you can people-watch under the sun.
Unfortunately they have one of the toughest competition next door (Relish). Food wise, I will choose Relish (yes, I haven't tried the food here, but such is the power of Relish in me). In terms of coffee, I'd choose Cranberry. Cranberry's coffee is head and shoulder above the Wildfire bakery (where I had undrinkable espresso the last time I was there; I should admit I have not tried the coffee at Relish).
I thought it had been open longer, but it is only 5 days old (at the time I wrote this review, Oct 1). I wish them the best of luck.
Verdict: They are the type of business that I love to support.
For more information, including address, please visit: