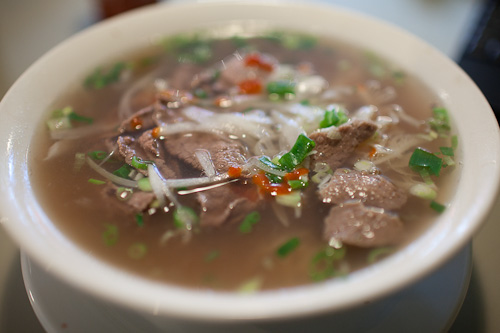 No. 120
<2010-10-01 Fri>
Saigon Night is located in the most competitive block of town (Fort/Douglas/Blandshard/Broughton). It is within few meters from some of my favourites: Devour, the Pink Bicycle, and Pho Vy. It is no surprise I haven't visited it in a very long time.
It was 1:22 and it was full! I was in a hurry, and this took me by surprise. This is a place where I have eaten in the past and it was never this full. Finding a full restaurant is always a pleasant surprise.
It is medium sized place, with a dark decor. I perused the menu. I ordered the "Pho dac biet". I got the largest supply of sprouts of all the pho restaurants I have visited. They were very fresh too! The meat was good, and the broth decent. I enjoyed it.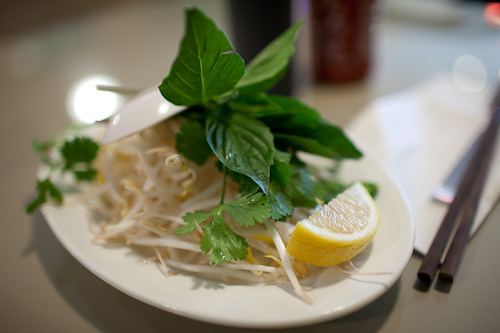 I guess the question that I should answer is: how does its pho compare to Pho Vy's? Saigon Harbour has less pho options, its meat and broth feel a notch below Pho Vy, but its vegetables (sprouts and herbs) were more abundant and fresher.
Saigon Harbour is very similar to Saigon Night in terms of options. Saigon's pho included pinker meat, but it might have been the particular type of pho that I ordered (I am not expert in this type of food, after all).
On the other hand, it is no competition versus Devour or the Pink Bicycle.
Verdict: Decent Vietnamese food, but with very tough competition.
Paid: 10.25 + tip
For more information, including address, please visit: