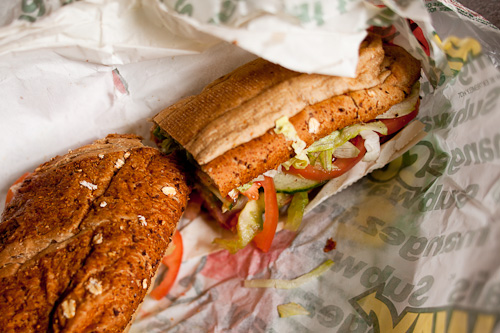 No. 115
<2010-09-27 Mon>
For some inexplicable reason, whenever I need take-out I always think of Subway (I am not sure it is a good thing).
This day I was in a rush, and in that area of the city there are few options (I had already being at McDonals!) and decided to get a sub.
The location is medium sized, with plenty of tables. It was clean and inviting. It was relatively busy when I was there. As you can expect from a restaurant close to "Our Place" homeless shelter, the washrooms sport a big sign: "Only for customers".
The sandwich tasted the same as any from another Subway (I presume most of you have been at Subway, so what would the point of a "food" review by then). The franchise has done a great job of making them totally uniform. And I think I am fed up with them. Time to find an alternative. Suggestions?
Verdict: Feels like any other Subway.
For more information, including location, please visit: