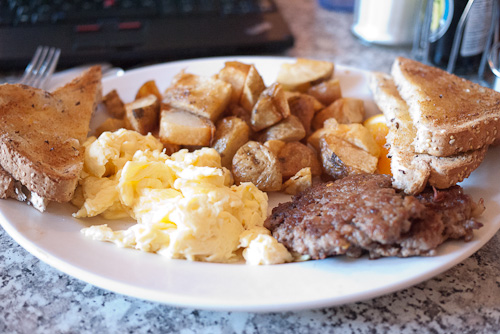 <2010-10-04 Mon>
No. 122
John's Place is located in Pandora, few meters from Douglas. It is a local's favourite.
Having woken up at 5:00 AM to take the first ferry to Victoria from Vancouver, I was very hungry at 10:00 AM.
Lively and noisy was my first impression as soon as I stepped in. The restaurant was playing very loud music, and it was surprisingly full for this time of the day.
John's Place is a "full day" restaurant, that offers a large breakfast menu.
John's place is a visual feast too. Like Pagliacci's, one can't stop looking at the walls. It is full of posters and photographs that cover music, sports, and entertainment. Here and there you can find photos of "John". The center piece is a large mural of the now defunct Tiger Stadium in Detroit. Under it, the wall is peppered with photos of famous players of the Tigers. No other subject is as heavily represented. John must be Tiger fan, I reckon. There are Canadian icons too: a photo of Joe Carter running the bases after his famous home run that gave the Jays the World Series (I still remember that moment, soon after the roar in the neighbourhood caused by the play--I was living in Jay's territory at the time); a faded poster of Gretzky in his early years holding the Stanley Cup along Geoff Cournall.
The breakfast-lunch is populated with pancakes and eggs. I ordered the "John's Special": two scrambled eggs with chorizo patties. The eggs were dry, the patties had only a faint flavour to chorizo, but a heavy one to cheap grease. It was a forgettable breakfast that makes me wonder: why is this place so popular? The other two times I have eaten here I left wondering why I did. The food has always disappointed me. The food, in my opinion, does not deserve this restaurant's popularity. And this is a question to you, the reader. If you like John's place, would you mind explaining me why?
Verdict: Avoid
Paid: 9.24 + tip
For more information, including address, please visit: