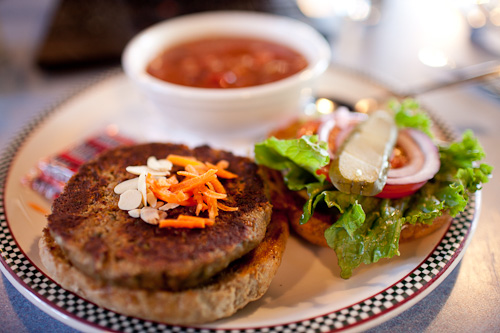 <2010-10-05 Tue>
No. 123
In what looks like a converted gas station and/or car garage, it is an all-day restaurant with a southwest influence. It is located at the intersection of Cook and View.
It was very late when I walked in (2:30) and the restaurant was almost empty. I was given a menu, and told to choose my table of choice. The tables are uncomfortable: they are too high for the height of the chairs. Pluto's has space for around 50 people. Its high ceilings and large windows make it look large and pleasant (except for the uncomfortable tables). Its decor is American Southwest. There is also a patio that might be useful during the warmer days of the year.
I ordered a "nut burger". The menu claims that they have been serving it for 22 years, so I imagine this would be dish they know how to make.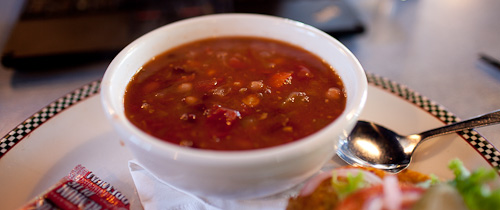 The burger is not bad. The bottom side of the bun only had butter, and I think it will greatly benefit from having something to make it moist, since the patty is(naturally) dry. The burger is not bad, but does not excel either. I had the same feeling about the soup: it wasn't bad, but it wasn't interesting either. Considering the price I paid, I'd rather choose going somewhere else (like the Pink Bicycle, that has a superior burger).
What gives Pluto's the edge is that they stay open for most of the day.
Verdict: Average food.
Paid: 11.70 + tip
For more information, including address, please visit: