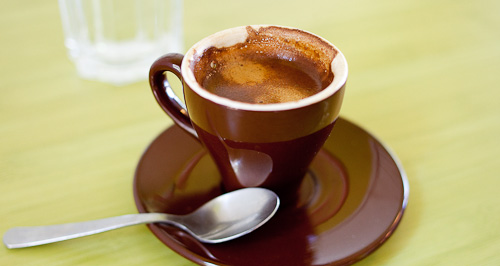 No. 76
<2010-08-14 Sat>
As you enter Crumsby's, the first thing you will notice is the colour palette of the decor. It is bright, with saturated colours that you rarely see in restaurants in Victoria. The second thing, is the play area for children, filled with toys. The third, how few children there are.
There was only one family with their children there. Perhaps this is Oak Bay. Perhaps it is the time of the day. Perhaps it is that it was one of the warmest days of the year.
I love the place. Perhaps it is because I grew up in an environment full of these types of colours.
In general I see few children playing, and they never bother me (their screams or noise).
Once in a while a little one comes close to me with those enquiry eyes. Being kid-friendly could be good for some (who have children and are looking for a place to have a coffee while their children enjoy the time) or a bad thing (for those who dislike the noise of children).
Crumsby's specializes in cup cakes and coffee. I have ordered some of them in the past, and they are too dense for my taste (this does not mean they are bad, I don't really like cupcakes in general).
The coffee is in the good category, and a much better option than Pure Vanilla few blocks away, with no real competition in the area.
Verdict: The best coffee in the area.
For more information, including location, visit: