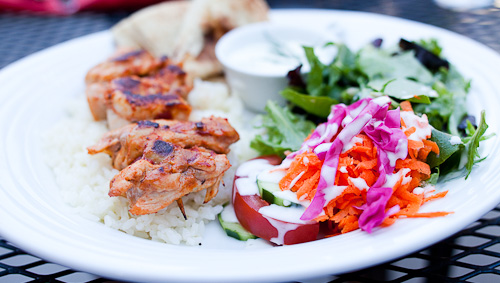 No. 75
<2010-08-14 Sat>
Oak Bay does not have many restaurants, thus it is always an event when a new one opens. Nar is a Turkish restaurant that opened just one block from the Oak Bay Marina. It is located in a small house, right in front of the park.
I need to state upfront that I don't know anything about Turkish food. I have no preconceptions, good or bad, nor I know what I am suppose to expect.
As we entered the restaurant, we were told that we had two choices: the patio or the inside. We were warned that the patio had no service, though.
It was a very hot day, and we chose to sit in the patio. It is a very pleasant one, and relatively large. I was very enjoyable to eat there. I also appreciated that the business acknowledges that the quality of service will suffer for the people outside, thus decides not to guarantee any level of service. It was also refreshingly informal compared to many stuffy places in Oak Bay.
We ordered (we had to do it at the counter). I chose the chicken kebab special. The food arrived was delivered to our table though.
The portion was large. The chicken was grilled to perfection. It was uniformly cooked, juicy and tender, and full of flavour. It was dark meat (which I personally prefer, but I know some people don't). I certainly enjoyed my lunch.
Given the proximity to my work, I believe I'll eating here regularly.
Also, the restaurant stays open during the break between lunch and dinner to offer coffee and tea.
Verdict: A very good first visit for a new restaurant that will make me come
back for more.
Paid: Approximately 17 + tip
For more information, including address, visit: