<2010-08-23 Mon>
No. 84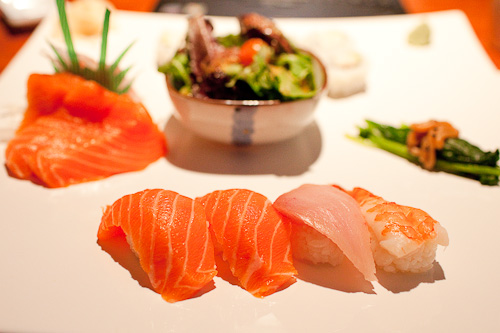 As I have mentioned before, entering a restaurant for the first time is an interesting experience, and says a lot about a place (whether intended or unintended by its management).
Time and time again, I am surprised by the storefront of a restaurant, and I am starting to believe that the entrance is not the way to judge a restaurant. For example, one of the best restaurants in Montreal, Le Club Chasse et Pêche, has no external indication that it is a restaurant, except for the crest of the restaurant next to a huge door. You cannot see anything from the outside.
The entryway of the restaurant is non-inviting, but as I entered Sockeye, my first surprise was how it tries to mimic a Japanese street, with the wooden walls, and roofs leaning towards the centre. It just looked out of place. It has some private areas, while the "patio" is centered around sushi bar.
The second surprise was the metal chopsticks, which are Korean, not Japanese. When my friend from Japan visited Vancouver, he commented on how many Japanese restaurants are actually run by Koreans. Sockeye is one of them. Looking around, I could see several signs in Korean, that confirmed it.
I was hungry, and decided to order their expensive lunch special (which range from 8.50+ tax to 15.95).

My food came in a large place, and was beautifully presented: 3 slices
of sake, 2 maguro, 1 California roll, and 4 nigiris (2 sake, 1 maguro,
1 ebi). The maguro was the star of the show. I happily enjoyed all of it.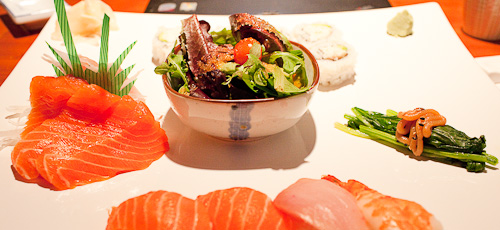 As I was finishing, I was asked if I wanted complementary ice cream, and opportunity I immediately took advantage of.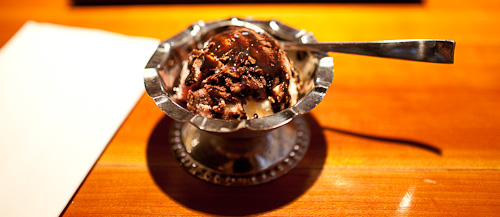 The good food was complimented by good service.
Verdict: Good good, I'd certainly come back.
Paid: 17:86
For more information, including location, visit:
alt="Sockeye Sushi on Urbanspoon"
src="http://www.urbanspoon.com/b/logo/1541312/minilogo.gif"
style="border:none;width:104px;height:15px" />