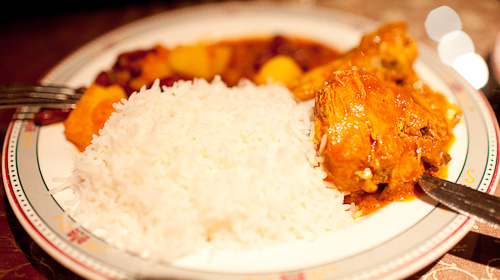 No. 80
<2010-08-19 Thu>
It opens for lunch only two days a week (Thursday and Friday).
Spice Jammer has one of the least inviting store fronts of any restaurant in town. Its storefront is a large floor to ceiling glass door and windows, around 3 meters wide. But instead of giving you a view towards the interior, the entire view is blocked with burgundy red velvet. The door is kept close, which means you can't see the inside from the outside.
Its dinning room is located in the back of the building, lacks windows and it is dark. Another similar restaurant is also Indian (Curry House). I don't like it. I want to see daylight.
As I enter, the waitress (dressed with a Sari, although Caucasian looking) asked me if I wanted the buffet or the menu. I was taken by surprise, because the entrance said nothing about a buffet. I asked for the menu.
I am not keen on all-you-can-eat buffets. Unless I am starving (and eat like a pig), I find them overpriced. I also don't like the lack of pairing between the different dishes. A good meal needs to be designed in such a way that the side dish goes well with the main food. In a buffet, we tend to mix everything without regard to what goes well with what. The only buffet I enjoy is the Oak Bay Marina's (and that is mainly because of the desserts).
The menu was primarily dinner dishes, that felt too expensive for lunch, and would have required extra rice. The menu, however, had a "Chef's Lunch Special". It was basically built from the buffet, with service. I decided to order it. The menu was printed with black print on red paper, extremely hard to see in the low light conditions of the restaurant. Spice Jammer, if you read this, I would recommend you use a lighter paper (white would work much better).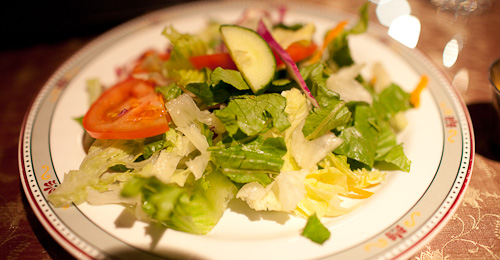 It was 1 PM and the place was almost empty. My food started to arrive. First a salad. The salad was simple, copious, and very fresh, but was not Indian at all. It was a good start. The next items were the curries (chicken and potatoes) plus two pakoras. The chicken curry was below average and one of the pieces of chicken came from the back of the bird (more bones than meat); the potato curry was much better. The pakoras were cold, but I enjoyed them--a lot. I would say that for the price, I had a large ok lunch.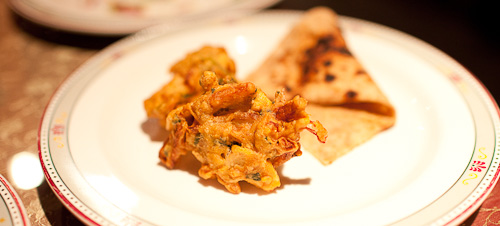 The service was excellent.
Verdict: It didn't feel very Indian, good amount of food for the money, but
quality varies significantly across dishes.
Paid: 9.58 + tip
For more information, including location, please visit: