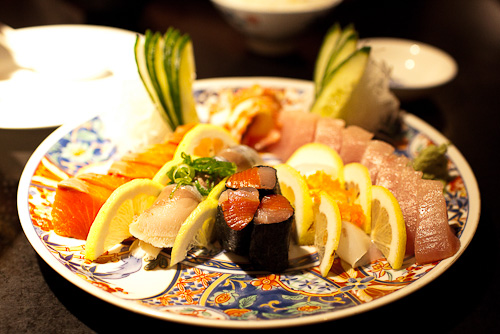 No. 69
<2010-08-09 Mon>
Koto is one of the first restaurants I visited in Victoria, and, surprisingly, I haven't been there again.
If my reading of the Kanji is accurate, Koto (古都) means Ancient City, and in a way it feels that Koto honours its name. When you enter Koto, it feels like it is in need of a renovation. The lobby area has had better times; its carpet is old and full of stains. Its models of the food in the window (if I remember correctly, it is the only Japanese restaurant in town that does, as restaurants in Japan frequently do) have fainted colours.
I wasn't sure what to expect from it. As I have mentioned before, in this area I frequently worry if these restaurants are tourist traps or not.
Seating at Koto feels very private. Most of the seating area is composed of "booths" with very high paper walls. The sound travels, but you can't easily see who else is in the restaurant. We arrived a bit late (around 1:20) and could not tell if there were other people there.
Koto had a simple lunch special, but because I was treating MG for lunch (who was visiting from Ontario), I decided it was better to order from the menu. He gave me free reign on selecting the food, and decided to order a deluxe sushi, tempura, miso and rice.
The miso was the first to arrive, and we were highly satisfied by its dense flavour. The tempura was next and it was very hot (it was brought to our table right after it was prepared), crispy and tasty.
I find the sashimi to always be the interesting part, because it varies significantly, from restaurant to restaurant, in presentation and components. It was primarily salmon, tuna, some saba, ika, and tako. We were very happy with the quality, the flavours, and the quantities. Because we didn't order lunch specials, our final cost was more expensive than other Japanese restaurants I have tried. I will probably come back again to try a lunch special to get a more fair comparison with other Japanese restaurants in the area.
Finally, we had very good and friendly service.
Verdict: A good lunch, I would not mind eating here again.
Cost: 18.40+tip (per person)
For more information, including address, visit: