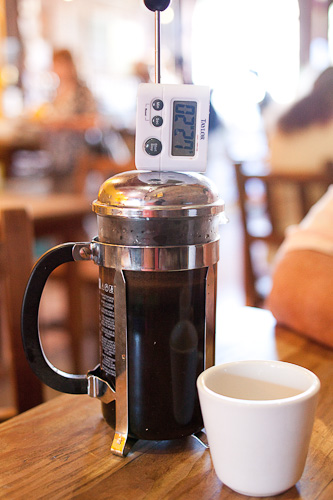 Coffee Review
<2010-08-12 Thu>
No. 74
I remember the days Solstice had just opened. I was very happy to see a place that felt so inviting and so comfortable open in this part of town. Solstice is located in one of old buildings of Market Square. Its walls are red uncovered brick with high ceilings. I became a regular.
One of my most memorable events in this coffee shop one night I was working on my laptop while sipping some coffee. It was a Thursday, if I remember correctly, and Solstice was open late allowing a "Philosopher's Cafe" to run that night. This was an eclectic group of people, with no formal organization, who would meet weekly to discuss any topic.
One night the topic was drugs. The discussion went on for a while, but then suddenly there was a commotion outside the coffee shop: there as a group of people demonstrating outside, and a news crew (from the local tv station) was there. The "leaders" of the demonstration (which was comprised of Cannabis club members and "enthusiast") asked for an "audience". A group of Representatives where allowed to join the discussion, which of course was just a bunch of people with no agenda, nor policy making power.
This event taught me a lot of what makes news in a small town like Victoria.
Back to Solstice. In the last 5 years the competition has increased tremendously. They are just few meters away from Habit, one of the best coffee shops in Victoria, and less than 1km away from a dozen coffee places.
What makes Solstice special is that it is a large place, with many comfy chairs or tables. It is a nice place to either, have a conversation, or sit and read or work (I think they have now Internet access).
MG, who was paying, wanted to have a large, 1 litre French Press (this used to be my home method, until recently, when I got a espresso), and he likes it dark. It was a nice touch that the press came with a timer, to remove the guesswork and guarantee better results.
The coffee was good, but strong. If you are in a group of people, or like a _lot_ of coffee, this is a good option.
Verdict: Good coffee. I would recommend it as second option in the area to Habit (my preferred destination for Coffee in Victoria).
Paid: 6 for large French press.
For more information, including address, visit: