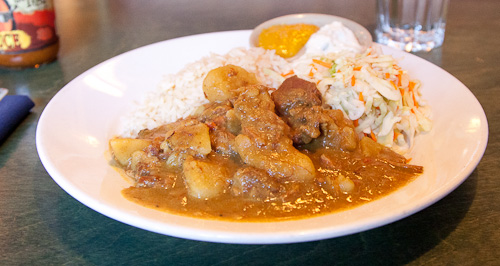 <2010-08-30 Mon>
No. 91
The Reef is one of the few Caribbean restaurants we have in town (perhaps the only one)? "Reefs" have been multiplying. According to
their web site
there are 4 locations (including Victoria).
I arrived at the Reef around 1:30 and it was almost empty (only other person having lunch). It is a large, bright location, with plenty of seating.
The have a lot of lunch options, and decided to settle for the West Indian Curry (Goat). Caribbean food (and this type of curries) is peasant food, and not meant to look pretty.
My curry was not bad. I enjoyed it: the portions were large, the curry tasty--although the rice wasn't interesting at all. It was one of those lunches that I am satisfied with the food and the price, but it is not exciting.
The service was very good.
Verdict: Decent food, at a good price.
Paid: 11.50 + tax
For more information, including location, please visit: