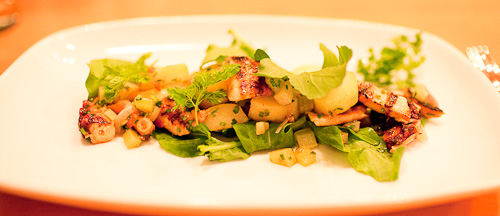 Update (Nov 21, 2010):
See how this dish is made
.
<2010-08-20 Fri>
No. 82
(Dinner only)
Out of the 82 restaurants I have visited so far, Ulla is the first that truly wows me.
I was busy with work and I didn't have time to fix dinner. I decided to go downtown and find a place to eat. My idea was to visit a restaurant that didn't open for lunch. My first thought was Wild Saffron, but as I passed in front of it I recalled that Ulla had opened just around the corner.
As I entered Ulla, my first impression was of a bright, modern, and comfortable restaurant. I liked it (some restaurants in town should learn from them). I was by myself, so I decided to eat at the bar.
I wasn't too hungry. Because I eat well at lunch time, I find full entrees at dinner time too big for me. I can eat out every day for lunch, but I can't at dinner time; it is just too much food. For this reason I tend to order apetizers. Another reason is that they tend to be more creative, both in content and presentation, than the entrees.
I ordered the tuna tataki, and the octopus. Both were delicious. In the tuna I particularly enjoyed the chanterelles, and I liked the way the avocado had been spread at the bottom of the plate as a "surface" in which the rest of the food rested. Its only defect is that some of the toasted garlic was chewy.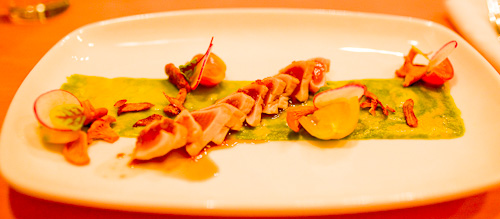 The octopus was sublime. It was as tender as butter and full of flavour. I could not stop eating it.

I usually don't order dessert, but I was enjoying the time, and had more work to do. I followed the bartender suggestion and ordered the chocolate cake. It was, like everything else, delicious.
The service matched the quality of the food.
In this first visit, Ulla delivered very interesting food in terms of flavours and presentation. More important, it was delicious. I can't wait to come back for more. If Ulla is consistent, and continues to deliver this level of food, it will be in my top 3 dinner destinations in town (perhaps the top one). I wished it opened for lunch.
Verdict: We need more restaurants like Ulla.
Paid: 35.84 + tip (2 appetizers + dessert)
For more information, including prices, visit: