<2010-08-24 Mon>
No. 85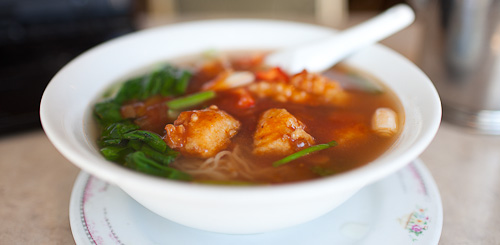 I used to eat lunch at JJ around once every two weeks, but I can't remember why I stopped going there.
The restaurant is popular, and if you come at the busiest times, you you will have to share one of the big tables (something I kind of enjoy, although many people bury their heads in their plates,
oblivious to the rest).
Usually, JJ has two specials, and at least one of them is a soup.I Ordered the Szechuan Halibut soup. It promptly arrived.
The fish was good, but the soup tasted like canned tomato with a hint of sugar. The good fish wasn't enough to overcome it. There was no Szechuan flavour, in my opinion. The noodles in the soup felt soggy (uncoooked, I think). Overall, a complete disappontment. I would think twice before coming here again.
Verdict: Mediocre food.
Paid: 9.52 + tip
For more infromation, including address, visit: