Note: This is not a Victoria restaurant.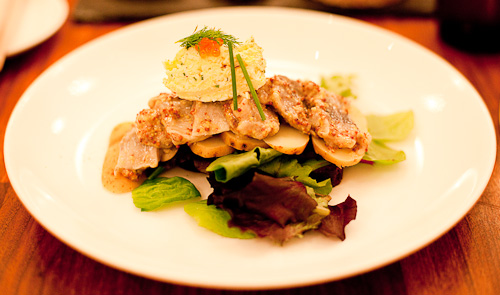 <2010-08-04 Wed>
I had to visit New York City last week. Beside my work obligations, I had 3 goals:
- To visit the
MOMA
- To visit
B&H Photo
- To eat in a "good" restaurant.
For my last goal, I settled for
Aquavit
. The night before I watched a documentary on his head chef Marcus Samuelsson, a Swede who was born in Africa. Apparently he was responsible for transforming the restaurant to one of the best in New York City. My travel guide also recommended it in the "Haute" category. Most important, it served lunch.
Wednesday was my day off, and the only one I had for sightseeing. I dressed the best I could (I didn't have any "business attire") and headed for B&H, where I spend a couple of hours, feeling like a child in a candy store, and building my hunger.
I arrived at Aquavit around 1:00 PM. Aquavit has two restaurants: the main dinner hall, and the bistro. I wanted to eat at the dinner hall, but I was told by the hostess I didn't look properly dressed for it. She, however, would further enquire. A couple of minutes later, she informed that I would not be allowed in.
Discrimination? Yes. I was wearing new blue jeans, and an informal shirt. The people eating were in suits, and most were significantly older than I was.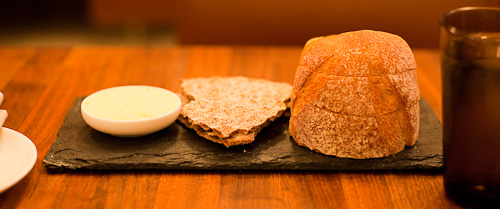 This is not the first time I have been in this situation. Few months ago I wanted to go to one of the 2 or 3 Michelin starred restaurants in London, but all of them (that served lunch) required a coat, which I didn't have (I had to settle for only 1-star restaurants, of which I'll write in the future).
Regardless of the ethics of denying entry to a service to "under dressed" people, I wanted to eat at Aquavit, so I settled for the bistro.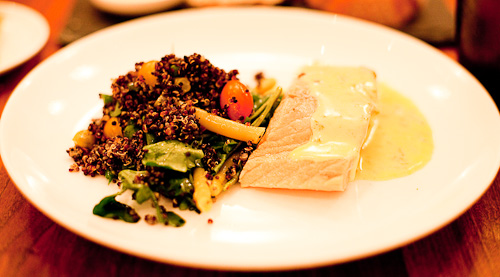 I ordered the 3-courses menu-of-the-day; and each course had 3 different options. I selected herring with mustard, cold poached salmon and chocolate dessert. I was particularly intrigued by what cold poached salmon was.
As it usually happens at this level of restaurants, presentation is key, and every byte is a pleasant surprise. Even flavours that I know (as in this meal) felt different. Particularly the salmon: there was a faint sweetness that made it special, and it was just barely cooked. The herring was fully enjoyable too, and the chocolate and the cookies delicious.
I was surprised that the plates didn't look like the colorful plates I was expecting from Samuelsson. Few days later I discovered that he had quit Aquavit few months before. Oh well ;) The food didn't disappoint me, however.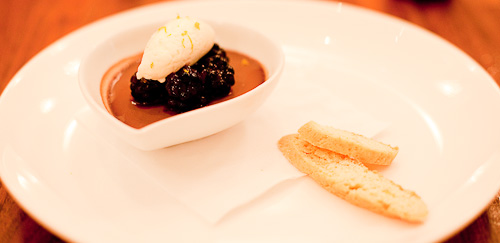 Another thing I noticed was the quality of the service. I was treated well by the service staff (ok, ok, except for the denial of service at the beginning), which was prompt to serve my needs. Some details were particularly notable: the cutlery was not only changed from plate to plate but it was warm to avoid cooling the food; of course, the plates were warmed too.
There was only one problem: the bread felt stale. It was a shame that the great job the restaurant staff had done was spoiled by such simple detail. I should have complained early, but I didn't (I waited to the end).
Overall, I enjoyed my lunch.
Oh, I almost forgot. Cold poaching of salmon is a misnomer. The technique involves boiling water, then lowering the heat, and poaching the salmon for few minutes (5-10), then letting the liquid cool and refrigerate. It is a dish to be served cold, perfect for the warm, humid days of the New York Summer.
Verdict: Recommended
Paid: 26.50 + tip (US).
(Considering that the previous day we paid 15 + tip in a mediocre restaurant, it felt like a great deal).
For more information, including address, visit: