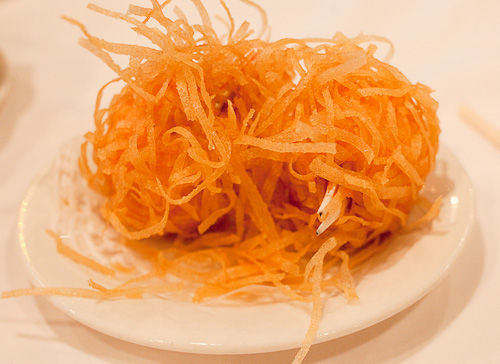 No. 70
<2010-08-10 Tue>
Don Mee specializes in dim sum at lunch time. Even though the restaurant is large, during the weekends there is usually a waiting queue, and depending on what time you arrive, you might have to wait for 10-20 minutes. On the weekdays, however, you can usually find an empty table.
Dim sum is composed of small portions of food, that are served from carts that travel the restaurant, visiting each table. The waitresses (they are usually women at Dim Sum) push their wares, trying to convince you that you want one. I frequently wonder if they are paid on commission.
It can be overwhelming to eat at a dim sum restaurant, particularly the first time. You don't know the variety of foods, and it is hard to avoid the temptation to order from the first carts, rather to wait for the "ideal" ones (the ones we would really like).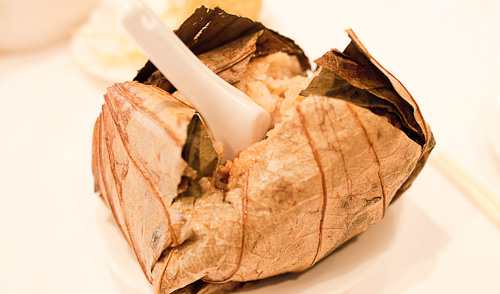 Fortunately the first to show up was the crab claws in shrimp cakes (photo at the top). MG immediately said yes (and I like them too). Almost immediately one of my favourites showed up: sticky rice (photo above). I love sticky rice, and I usually order it at Don Mee (I usually don't wait for a cart to pass by, I order it directly from the staff).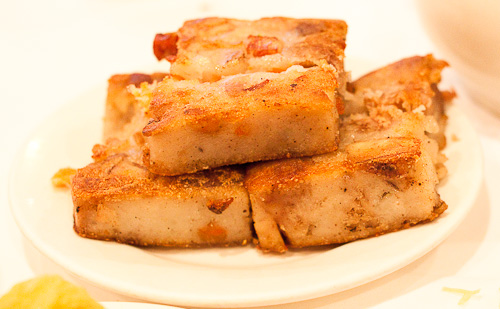 MG ordered some type of rice cakes, which I didn't find particularly interesting (photo above), then some semi-crispy rolls (which were a bit soggy--photo below).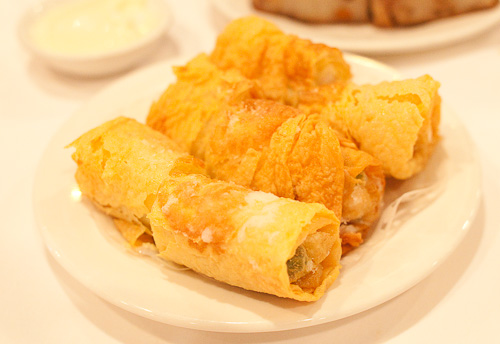 We were almost full, and we spend the time talking, waiting for a dumpling cart to pass by. Many others did before. Finally, I got a basket of scallop dumplings, which were ok.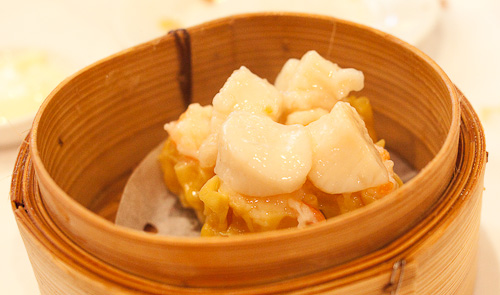 In order, I liked the crab cakes the most, followed, by the sticky rice and the scallops, at the bottom the other two dishes (which I would not order again).
It is better to go to dim sum with company; otherwise 2 baskets are enough for one person, but one misses the fun of trying many more.
Interestingly, and like my experience at Honk Kong West, they have menus written in Chinese only. In fact, we saw a group of Chinese people being served food that we could not see in the menu. I definitely need to come with a Chinese person to these restaurants.
Verdict: it can be a good lunch, but it will heavily depend on your choices (and your patience to wait for them).
Paid: 15.50 + tip
For further information, including address, visit: