<2010-08-25 Wed>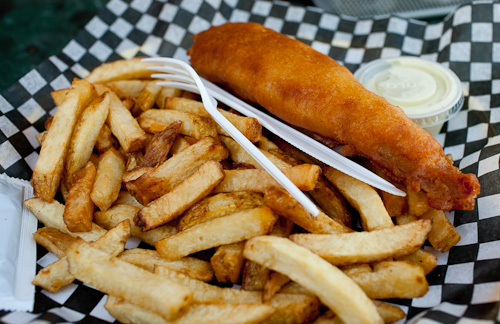 No. 87
It was one of those days in which I am not sure what I want to eat. I was planning to go out for dinner and wanted a quick and light lunch. I decided to canvas the Fairfield area, starting with the Fairfield Plaza, but nothing interested me. I thought about going to Cook St, when suddenly remembered that Fairfield Fish and Chips offers lunch.
The place is tiny, has some stools inside and few tables outside. Fortunately it was late, and there was plenty of space inside and outside. They had a lunch special with a piece of fish plus chips, which I ordered. The lady who took my order was the only person there. There is no service whatsoever. Fairfield Fish and Chips is a take out place, that has some space for you to eat in-site if you so choose.
I decided to sit outside, and ask her to yell when my order was ready (they have a take out window). I usually don't like sitting outside by the road, but Fairfield is not a very busy street at that time of the day. It was very pleasant. I thought about the importance of the place when it comes to food, and how, to recommend a restaurant to a person you need to understand what type of experience they are looking for in a particular occasion. While my original constraint was to have a simple, light lunch, I truly appreciated the calm of sitting outside, enjoying a beautiful day.
My order was ready for pick up and I was surprised by how much food it was. This was not going to be light lunch. The fish was nicely cooked, but the batter is too thick for my taste, so I removed pieces of it, and left them on the plate. Later I discovered that they offer a "light battered" version, which I must try next time. This was not the light lunch I was planning, but I enjoyed it nonetheless.
Yes, there will be a next time. This is an unassuming restaurant, that offers good food at hard-to-beat prices. In my opinion, Fairfield Fish and Chips is one of the best deals for lunch in Victoria. Of course the downside is that you increase your calorie intake. The world can't be perfect.
Verdict: Unbeatable benefit/price ratio, recommended.
Paid 6:72
For more information, including location, please visit: