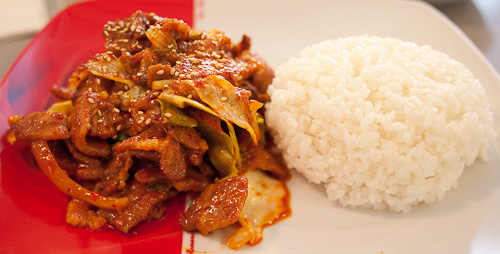 (I think the food would have look better if the rice was on the red part and viceversa).
No. 73
<2010-08-12 Thu>
When I reviewed Sura, I thought it was the only Korean restaurant left in town. I was mistaken. King Sejong is the other one.
I have passed in front numerous times, and its storefront has never "called" me. It has the menu and photos (many fainted) posted on the window, but it does not look very interesting nor appealing, even though I like Korean food.
I think the main challenge with Korean food is that we have no idea what the dishes are. Yes, I know what Bibimbap is, but other than that, I always struggle to remember what the dishes names are. For example, I really like the pork bone spicy soup, but I can never remember its korean name (it is gamjatang, I think, but I had to look it up).
The restaurant is narrow and long, and has around 40 tables, with around 1/4 of them in use, significantly bigger than what I expected. It looks outdated, as if King Sejong took over a failing restaurant and decided not to change the furniture nor the decor.

King Sejong has a long menu and lunch specials. the long menu contains many items, including some that are expected to be shared by at least two people (i.e. the soups).
I wasn't very hungry, so I opted for one of the four lunch specials: Jeyuk bupbap (fried pork with spicy sauce on rice).
The food arrived promptly. As it is customary in Korea, it included side dishes (3 this time, I love that of Korean food). They are called
banchan
, and they are expected to be shared. They were kimchi (a staple of korean food), shrimp flavoured (I think) tofu, and bean sprouts. My favourite was the tofu; the kimchi looked as if needed more time fermenting.

The meat was pork fried in a spicy sauce with onions, sprinkled with sesame seeds. It was very tasty. The food cooled quickly (the plates were not warmed--I can't blame them for that, at this price range) and it started to feel oily.
When considering the price of my food, it was very satisfying lunch, and I would certainly eat here again.
If I had to compare it to Sura, I think King Sejong is a notch below, but it is also a notch below in price (Sura specials are 10, Sejong King 8).
Verdict: Excellent value for lunch.
Paid: 8.95 + tip
For more information, including price, visit: