No. 66
I was shopping at The Bay when I thought, "how about having a coffee at its Cafe?"
I had never been inside it. It is huge! It probably seats around 100-120 people.
The thing that stroke me, as I walked by so many empty tables, was the magnificent view of the harbour. Victoria does not have many tall buildings, and even less, public access to their top floors. The windows of this side of the building are probably the best view anybody can get of the harbour from above.
It is a cafeteria, and I was disappointed it didn't have espresso. I don't like soft drinks, so I chose a small apple juice. In retrospective, I should gotten a tea.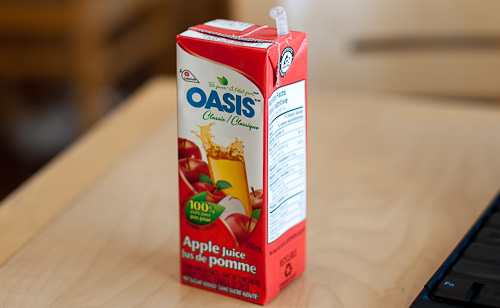 Then took a table next to a big window, and enjoyed working on my laptop with a very comfortable chair and table. They have the perfect height for working on a laptop.
People come and go, but the place is so big that it feels empty. Which is also an advantage when I am working on my laptop, as I don't feel any pressure to leave.
Come for the view.
Verdict: Recommended for the magnificent view from the top floor of the Bay Centre.
Paid: 1.11
Update: It is a loss leader for the Bay. As I was leaving, I bought way more than I originally intended.
For more information, including its address, visit: