No. 77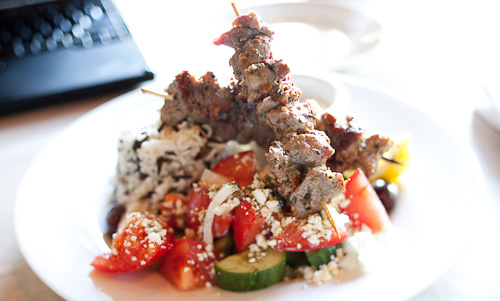 <2010-08-17 Tue>
One of the defining features of any restaurant is the type of people who frequent it. In fact, this a way we use to determine if a place is worth to eat at. For instance, if a Chinese restaurant has lots of Chinese, we might think it is more "authentic" than otherwise.
I remember one trip to Paris with my best friend. He coined the following phrase: "In Paris, never go to a restaurant that is full of Japanese". That was the 90's, and Japanese tourists had money to spend.
I have visited approximately 100 different restaurants and coffee shops in Victoria (including the ones reviewed in this blog), but that did not prepare me to the shock of entering Black Olive: every dinner was well dressed (many with coats and ties). It was as if I had been transported, by crossing its door, into a different city. I felt under-dressed! Of course, it was all in my mind, because, compared to
my experience in NYC
, this time there was no questioning of my attire.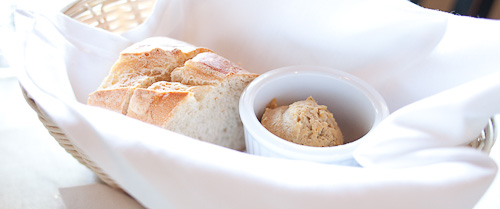 I was sat on a nice table. It is one of the few restaurants that during lunch service, has a dinner-type setting, with white cloth and wine glasses. It looks very professional and classy. Perhaps that is why it attracts people who are dressed up. It gives them a different experience than other eateries (such as John's Place, which is few meters away).
The menu included three specials, plus many lunch options. I decided for the lamb souvlaki.
A nice-looking basket of bread arrived. The bread was accompanied with hummus (instead of the traditional butter). It was very good.
My souvlaki was ok. It came with a good salad. It was a good break from more traditional restaurants, but not food that gets me excited. Nonetheless, I would not mind eating here, particularly on Mondays, when there are less options available (Black Olive opens on Mondays).
The services was excellent.
Verdict: It has no competition when it comes to Greek Food. A good option for Mondays.
Paid: 15.68+tip
For more information, including location, visit: