<2010-08-24 Tue>
No. 86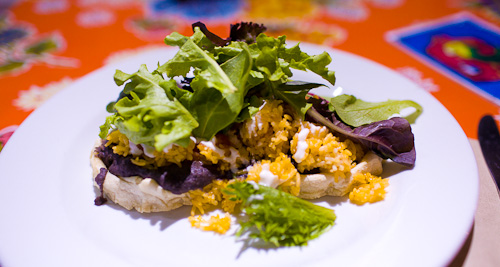 Hernande'z secret to success is extremely simple: hand made tortillas, a very good salsa, and fresh ingredients. They are absolutely the best tortillas in town. I am not surprised they have stopped selling tacos to go (you can't have a taco 1/2 hr later, it would have disintegrated by then).
They have two menus: the slow and the fast, depending on how long you are willing to wait. It is unfortunate the pressure that some customers impose on the speed of preparing food in a restaurant. Some of us would prefer a richer, better cooked meal than a fast one. I think Hernande'z approach is the right one: state, upfront, that some items in the menu will take longer to prepare, and let the customer decide. When you order you get a card. It is a
"Loteria"
card, which is similar to Bingo but for kids. They will call your card when your food is ready, and bring it your table; you can sit and relax while waiting for your food (other places in Victoria should learn from this simple method of keeping your customers happy while waiting).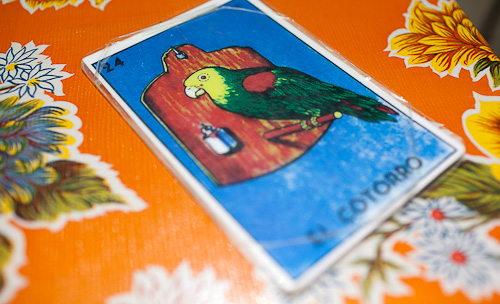 I tend to order el Huarache (they call it "La", which is wrong. It is "El"), which is a central Mexico staple. Their version is not very authentic but I enjoy it. A true huarache has beans filling sandwiched in the "masa", not on top. This huarache is closer to a big "sope". Their interpretation is a also "healthier" (it lacks the lard that enriches the authentic ones) and has a good salad to top it. The flavour of fresh cooked corn and the salsa does to me what good comfort food should always do: brings me back memories (in this case, of my years in Mexico). I have tried other items in their menu and I have enjoyed them, but keep going back to the huarache.
A final note: they stay open for most of the day, from 11:30 to 21:00, making it an ideal place for a late snack.
I am a regular.
Verdict: Very good prices, and highly recommended.
Paid: ~7.50
For more information, including location, visit: