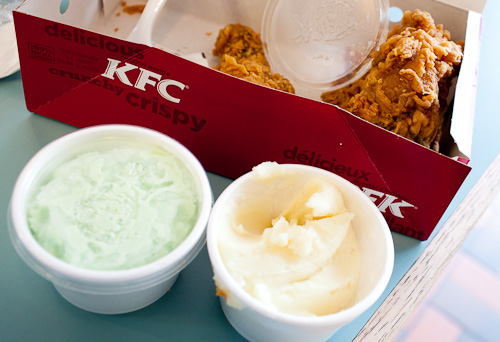 No. 89
<2010-08-27 Fri>
I suspect I am not the only one who has fond memories of going, as a child, to Kentucky Fried Chicken. I used to love their mash potatoes with gravy.
While the corporate name is now KFC (some argue it is to avoid the non-so-healthy word "fried" in their name), this one still has the old "Kentucky Fried Chicken" emblazoned in the outside. As I entered, I was surprised to see that this one is really a take out place. There are some stools with around a high bench, a park bench (yes, a park bench), but no tables. The place was almost empty (it was around 1:20). It feels like this restaurant has seen much better years in the past. Today it feels run-down.
Like McDonals, I felt totally lost trying to decipher their menu. I ended ordering a 2-piece special, with salad and mash potatoes (included a drink, but converted it to water).
The most remarkable part of my visit was the quality of service I had. The two ladies that served me are probably underpaid, had no motivation from tips, and yet they were ultra friendly, and I got excellent service from them.
I got my food, but the stools were taken, so I had to eat standing. One piece of chicken was enjoyable (leg), the other not (back of the chicken). The salad had a green radioactive glow. Both the salad and the potatoes had an artificial flavor, and didn't ate much of either one. I think the next time I am at a KFC (there is no next time at this one) I'd just order the chicken, and it will be the non-crispy version. I don't think this chicken is worth this
level of security for its recipe.
Verdict: Avoid
For more information, including address, please visit: