No 60.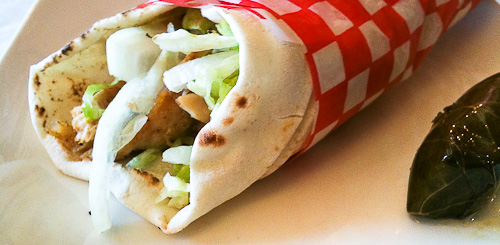 <2010-07-23 Fri>
Good and inexpensive shawarmas in an unassuming location.
What process do we follow to decide if we should, or not, go into a restaurant? I have frequently wondered.
I have passed by Al-Sultan several times, and I always wondered if I should have lunch there. The front is unassuming, and as I usually pass in a hurry, I never really stop to look inside the windows to find out more about the restaurant.
I looked for research that looks into the factors that determine our choice to select a restaurant, and one aspect it is mentioned is that deciding where to go is always stressing for the persons who have to make the decision. You are, in front of a restaurant, trying to decide if it will satisfy your hunger, and if its worth the money. After all, a bad meal is not something you can return the next day, as you would with a bad TV at Future Shop (sometimes I wish I could, though).
Wanting to visit every restaurant in Victoria has removed that apprehension from my restaurant visits. Now, when I see a restaurant, I know I am going to try it at some point; and yes, I'll have some bad meals, but I will also have memorable ones too.
Al Sultan wasn't my first option this day. It was late, LR and I were in China-block, and were trying to find a place that we would both find acceptable, when I remembered Al-Sultan. I quickly called them, and discovered they stay open from lunch to dinner time. Perfect.
We arrived and were surprised by the size of the restaurant. Like Shizen, it has two floors of tables. The menu is a full-day one, but they have daily lunch specials. Unfortunately it was late for it, so we chose instead to have shawarmas: LR ordered the falafel, and I ordered the beef. But there was no beef that day, so I had to settle for chicken.
The restaurant feels like a family business. The son and the father (I presume) were both using their computers as we walked in. The son was the one who served us. Visiting these places run by immigrants or children of immigrants reminds me of the greatness of Canadian's multicultural mosaic. The immigrants bring along not only their skills and dreams, but also their traditions, food being one of the most
important ones.
Granted, Victoria is not exactly the Mecca of international food in Canada. Yet, we have many of these restaurants.
As soon as we sat, the music system started playing some middle eastern music. A group of young middle eastern people soon arrived to make the place look alive.
Our shawarmas arrived. They were adorned by a dolma as a side, which as a very nice touch. We both enjoyed them. They were both freshly prepared, simple and good. The chicken and the falafel were both nicely cooked and tasty. The dressing of the shawarma was flavourful and combined nicely with the filling.
Our service left to be desired (he apologized by the end of our meal, acknowledging that he had forgotten about us), but the overall experience was good.
One final note: this is the only restaurant I have visited that explicitly labels its meat as halal, if that is an important consideration for you.
Verdict: Simple, yet good shawarmas at a very good price. Recommended for a quick, inexpensive lunch.
Paid: 7.75 + tip (I think)