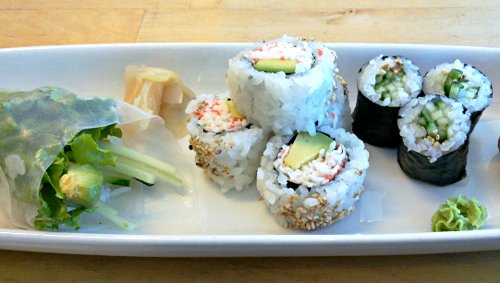 <2010-07-06 Tue> I haven't been at Mutsuki-An for a while. Just
outside Victoria, this is one of the best Japanese restaurants at
lunch time. Perhaps the best.
Mutsuki-An follows the Japanese tradition that a meal starts in our
eyes. Every dish is beautifully presented. While many restaurants
offer their specials in bento boxes (utilitarian presentation intended
for take out, not in-site eating in a decent restaurant) they use
elegant dishes, and superb organization in the plate to get you
excited before you give it the first bite.
And the food does not disappoint. One of the best miso soups--if not
the best--I had so far. The lunch special includes an avocado temaki
sushi made with rice paper rather than nori, and its dessert is a
profiterole; this shows, in my opinion, that the chef is not afraid of
trying to be innovate and be different than the rest. The flavours
were subtle, delicate, and delicious. The chef, by the way, is a
woman, and the waitress appears to be her daughter. It certainly has
the family business feeling.
Compared to most Japanese places in town, Mutsuki-An feels above
them. It has better quality of ingredients, better presentation, and
more interesting dishes. The place is small, but bright and
welcoming. You might have to arrive early. They also like to close
exactly at 2:00, which means you have to arrive between 11:30 to
13:30, except for Friday and Sat. when they stay open the entire
afternoon. Even their dinner service ends early (they close at 7:00
PM, or when they run out of food).
Keep in mind that it is a bit expensive compared to others and the
portions are smaller.
I want to go back soon, to try other options in the menu.
It does not open from Sun-Mon.
Verdict: One of the best places for lunch in Victoria.
Paid: 14.00 + tip
For more information: